cover-jmi.jpg
Today's biggest organizations, inventions, and businesses all started with an idea. And at JMU, your gift to the James Madison Innovations Startup fund can transform ideas of passionate, driven faculty and students into tangible creations.
James Madison Innovations, a non-profit organization affiliated with JMU for managing intellectual property and commercializing innovations, has created a new micro-incubator program designed to launch viable startup companies based on JMU inventions.
Each startup company will commercialize and market innovative new products. It will give JMU students real-life experience in building and working in a startup. And they will do so under the leadership of an experienced entrepreneur.
It exemplifies the qualities of an engaged university—encouraging students to branch out of their classrooms, participate in hands-on learning practices, and take their academic knowledge into the business world.
With your gift, JMI will continue to:
Commercialize JMU-sourced technology
Involve JMU students in startups with professional guidance
Foster local economic development
Give students the opportunity to earn practical business experience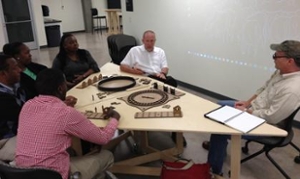 A business plan for JMI's first startup company, Collegiate Strength Innovations, LLC (CSI), won first place at the JMU College of Business Venture Creation Class Business Plan Competition in 2012. It also won the Governor's Technology Award for Innovative Commercialization of Technology Research in 2013. And the company is now producing and selling products created by the JMU Athletic Department strength and conditioning coaches to the health and fitness market.

Your contribution to JMI can ensure that these successful startups continue to be created and thrive in the market.

Watch these companies grow and flourish from the start. Your gift makes it possible.