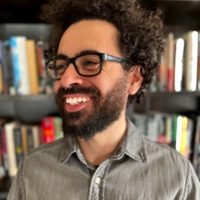 Office: Keezell 410
Fall 2023 Office Hours:
Tu/Th 12:30-2:00pm or Zoom by appointment
Website: http://www.jasonbaltazar.com/
Specialization: Fiction Writing, Multi/Cross-genre Writing, Speculative fiction, Multi-ethnic and Diasporic American Literature
Education:
PhD, Creative Writing, University of Kansas, 2022
MFA, Creative Writing, University of Kansas, 2018
BS, Graphic Design, Art Institute of Pittsburgh, 2009
Selected Publications:
Fiction/Hybrid:
"Dirge for Our Dead Mountain," ergot, 2022.
"And She Moves Like Smoke." Wigleaf, 2022
"Misconceptions of the Monstrous Tongue Dispelled," Timber, 2022
"Some Transcendent American Made Backyard Doom Machines," Always Crashing, 2022
"The Incident Report Cocooned to the HR Manager's Desk," Wrongdoing Magazine (pg 87), 2021
"When the Ten Thousand Ton Trilobite Attacked," Abandon Journal, 2021
"Disappearer," Bourbon Penn, 2020.
"Two Step Program," Bourbon Penn, 2019.
"Amorpho & The Leering Freak," F(r)iction Magazine, 2019.
"Fashion Week: Central Occupied Territory," Boston Review, 2017.
Nonfiction:
"Partial Curriculum by Blood," New Delta Review, 2022
Poetry:
"when people laugh at a word like soul," Arkana, 2021
"inheritance," Occulum, 2021
"enkindle," Ample Remains, 2021