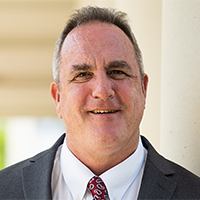 Dr. Mark L'Esperance was named professor and dean of James Madison University's College of Education, effective July 1, 2019.
The College currently has more than 100 full-time faculty and staff, 187 part-time faculty, 1,300 students in teacher licensure programs, and over 30 initial licensure programs. In addition to teacher preparation, the College also houses 200 cadets in Army Reserve Officer Training Corps, approximately 250 students in the Human Resource Development minor, a minor in Educational Media, and graduate programs spanning 12 areas including Human Resource Development, Educational Leadership, Educational Technology, Spanish Language and Culture, and TESOL.
L'Esperance previously was professor and chair of the Department of Elementary Education and Middle Grades Education at East Carolina University, where he was also the lead faculty administrator for the East Carolina University Community School. L'Esperance joined the faculty at ECU in 1998 and has presented and published extensively at the state, national and international levels. L'Esperance has worked with public-school systems in coaching hundreds of administrators related to strategic planning and instructional leadership.
L'Esperance's vision for JMU is to build upon an already strong foundation. It is his belief that the College of Education will embrace a culture of significance, empowered by a collective sense of purpose based on clearly defined mission, vision and goals. This vision aligns directly with JMU's commitment to engagement. L'Esperance also hopes to elevate recognition of the college to a national level—highlighting the impact it has on both innovation and best practices in educator preparation, military science and through civic and community engagement.
L'Esperance's graduate studies included doctoral work at Indiana University and earning a Ph.D. in 1998 from the University of North Carolina-Greensboro. He is a native of Lynn, Massachusetts, and enjoys spending time with his wife of 32 years, Pam, along with their three adult children and their families. In his free time, he enjoys reading, weightlifting and watching college sports.