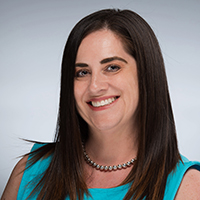 Education:
Ph.D., George Mason University, Special Education
M.S., Massachusetts Institute of Health Professions, Communication Sciences and Disorders
B.S., University of Vermont, Communication Sciences and Disorders
Program Involvement:
Teaches undergraduate and graduate courses in both the Inclusive Early Childhood Education (IECE), and the Exceptional Education Department (EXED)
Professional Experience and Interests:
Speech language pathologist
Former early childhood special education teacher. 
Worked as a speech pathologist in a public school serving students from 2-years-old to 6th grade.
Worked as a home resource teacher, providing services to children ages 3 – 5 within their home or community preschool.
Provided private speech and language services to school age children.
Interests include:  special education law and policy, early childhood inclusive education, intervention research in order to assist school success for students and bridging the research to practice gap.
Current Research:
Writing intervention with students with High Functioning Autism
Three Pieces of Advice for Future/New Teachers:
Enjoy your students – remember every day is a new day
Advocate for your students and teach them to advocate for themselves
Stay current on special education law
Resources that you would recommend:
Council for Exceptional Children – join to receive journals with strategies to assist special educators in their teaching and to stay up-to-date on best practice.