Dr. Tim Thomas: Associate Professor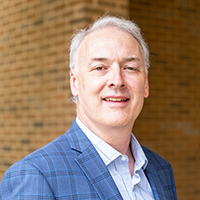 Through his work with JMU students in the Teacher Education Program and with classroom teachers, Tim Thomas explores ways to develop learners' agency to better connect them with Nature and the locality. His writing and research are focused on teaching and learning, sustainability, and environmental topics all with a focus on place-based education. Tim spent time previously as a high school English teacher and as a high school administrator in Virginia. Dr. Thomas can be found on Twitter @LocalSmartsEdu.
Education
University of Virginia, Ph.D., Curriculum and Instruction
University of Virginia, M.T., English Instruction
University of North Carolina at Chapel Hill, B.A., English
Select Publications
Rivera, M. and Thomas, T. (Winter 2019). Inside a pocket museum: Using pocket museums to promote higher-order thinking. Green Teacher. Vol. 118. 12-15. https://greenteacher.com/inside-a-pocket-museum/ 

Rumble, B. and Thomas, T.G. (May/June 2015). Urban oasis: Schoolyard science yields student achievement. Principal magazine. https://www.naesp.org/principal-mayjune-2015-technology-innovation/raising-bar-urban-oasis-yields-student-achievement

Thomas, T. G. (2020), Place-based inquiry in a university course abroad: lessons about education for sustainability in the urban outdoors, International Journal of Sustainability in Higher Education, Vol. 21 No. 5, pp. 895-910. https://doi.org/10.1108/IJSHE-07-2019-0220 

Thomas, T. G. (Spring 2014). Harnessing the power of informal education in the name of STEM.  Virginia Educational Leadership. Vol. 11. 64-73. http://publications.catstonepress.com/i/305649-journal-2014/63? 

Thomas, T. G. (May 2009). "More Real and Less Factual:" Teacher Decision-Making about Place-Based Topics in Rural Secondary Classrooms.  Occasional Research Paper Series, Institute for Regional Analysis and Public Policy, Morehead State University. https://scholarworks.moreheadstate.edu/msu_faculty_research/866/ 

Thomas, T. G. (October 2007). New and veteran teachers' perspectives about delivering multicultural education.  Curriculum and Teaching Dialogue 9, 1 and 2, 113.

Thomas, T. G. and Owen, T. R. (January 2007). Decision-making by online instructors: Recognizing student potential for success.  The PAACE Journal of Lifelong Learning 16, 73.
Thomas, T. and Rivera, M. (Summer 2020). Curating digital museums: Learners designing collections of online artifacts that lend connection and credibility to their understanding. Green Teacher. Vol. 124. 29-32. https://greenteacher.com/curating-digital-museums/