Dr. Emma Thacker: Associate Professor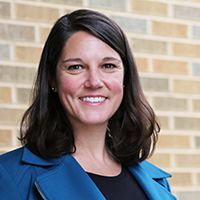 Academic Degrees:
B.A., Anthropology/Sociology, Transylvania University
M.A., Secondary Social Studies Education, University of Kentucky
Ph.D., Education Sciences – Curriculum & Instruction, University of Kentucky
Professional Interests:
Teacher professional learning
Lesson study
Inquiry in social studies education
C3 Framework
Civic education
Dr. Emma S. Thacker is an associate professor in the department of Early, Elementary, and Reading Education at James Madison University, with an emphasis in social studies education. Dr. Thacker serves on the Executive Board of the College and University Faculty Assembly (CUFA) of the National Council for the Social Studies (NCSS) as well as the advisory board of Social Studies and the Young Learner. At JMU, Thacker has been honored with the Essie Glass Award for excellence in scholarship and teaching (2019) and the Parker and Major Faculty Endowment (2020-2022) to support her research in elementary social studies inquiry. She teaches a variety of courses in social studies pedagogy and curriculum design at the undergraduate and graduate level, and her research interests include social studies teacher professional learning, the design and implementation of social studies inquiries in K-12 classrooms, and pre-service teacher education. Dr. Thacker's research, teaching, and service address the need to prepare all students for civic life as a necessary component of a more equitable, democratic society. She served on the writing committee for the NCSS National Standards for the Preparation of Social Studies Teachers and her publications have appeared in Multicultural Perspectives, The New Educator, Journal of Social Studies Research, Social Education, and Social Studies and the Young Learner. She recently co-authored a book, Teaching Disciplinary Literacy in Grades K-6: Infusing Content with Reading, Writing, and Language (2022) focusing on practical, research-based strategies for integrating content and ELA in meaningful ways for pre-service and in-service teachers.