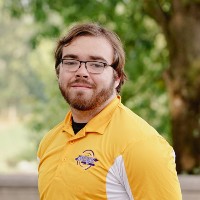 Matthew became an EA because he wanted to become more involved in Engineering. He chose JMU Engineering because of the community, the campus, and the experiential learning aspect of the program. Matthew is also involved in the JMU Aerospace Club and enjoys hiking, climbing, running, gaming, and skiing/snowboarding in his free time.
How is JMU Engineering preparing you for your future?
"I am given opportunities to work in teams and get hands-on experience."
Advice for prospective students:
"Make a decision based on what best works with your work ethic."