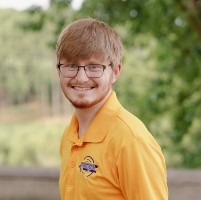 Cooper chose JMU Engineering because of the capstone projects. "Touring the engineering building and seeing the Shell Eco Car project really cemented JMU as my top school and the freedom to specialize in different areas without being locked into one branch of engineering," says Cooper.
Cooper became an EA because he wants to show every kid that they can make it as an engineer. "I want them to know that they can excel and be apart of something bigger." He is also involved in JMU's Ski and Snowboard Club, Boarderline. He enjoys skiing, tennis, and golf.
How is JMU Engineering preparing you for your future?
"JMU's engineering program is all about personal discipline and time management. Those two key aspects are so important in industry and the professors know that and tailor the program to focus on them."
Advice for prospective students:
"Just be patient. Don't try and rush the processes set out by the professors. Don't assume the professors want you to fail because they don't answer a question the way you want them to. Don't put down your fellow peers if they're struggling with something you excel at. Patience is the key to succeed."