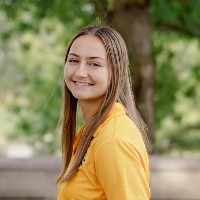 Lily chose JMU Engineering because of the ability to explore and have experience in multiple Engineering fields. She became an EA "because she wants to share her love for JMU Engineering with potential dukes!" She belongs to Phi Mu and Club Field Hockey. In her spare time she enjoys reading and playing field hockey.
How is JMU Engineering preparing you for your future?
"The Engineering program is giving me hands-on experience through labs, design projects, and more and the opportunity to collaborate with other students and professors in the program."
Advice for prospective students:
"Explore your interests! There are so many different fields and specializations in engineering that you can discover what resonates with you."