The JMU chapter of the Student Academy of Audiology (SAA) is an organization for undergraduate students interested in audiology and students in the Au.D. and Ph.D. audiology programs. The local chapter provides students an opportunity to network with classmates and faculty. The club at JMU focuses on five main areas of activities: advocacy, education, humanitarian, fundraising, and diversity & inclusion. Our SAA chapter provides education for the community by giving lectures on hearing conservation and protection. On the national level, SAA offers textbooks at discount cost, networking with professional audiologists, and a national conference each year. SAA provides important experiences in the field of audiology as well as a support system of students and faculty.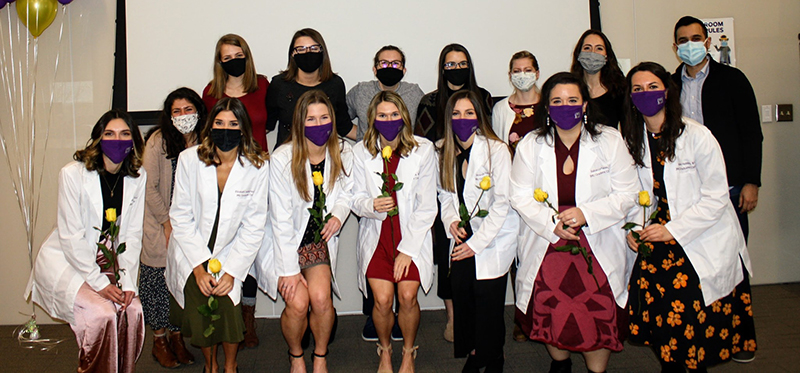 JMU Student Academy of Audiology 2020-21 Members
Back row left to right: Lara Leggio, Erin Hernon, Ellen Jones, Michelle Besser, Taylor Arbogast, Bonnie Purtill, Brenna Murray, & Daniel Romero
Front row left to right: Melanie Johnson, Elizabeth Pahygiannis, Becca Civil, Noelle Steele, Miranda Scalzo, Becky Hales, & Kate Hobbs  
JMU SAA Events
Each year JMU SAA hosts and participates in events related to advocacy, education, humanitarian, fundraising, and diversity and inclusion. Some yearly favorites are a silent auction, yard sale, trivia night, and Special Olympics.
Connect with JMU SAA
Connect with JMU SAA on Facebook and Instagram.
Become an SAA Member
Contact JMU SAA at jmusaa540@gmail.com for more information and to join SAA. Sign up to become a national SAA member online at: Student Academy of Audiology National Membership