Student Print Exhibition 40th Anniversary Tour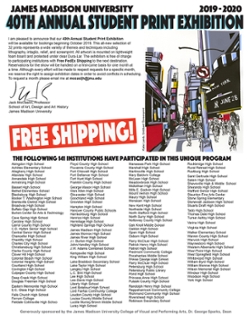 2019 marks the 40th anniversary of the Annual Student Print Exhibition tour.
Professor of art Jack McCaslin received so many requests for the tour from schools throughout Virginia that he prepared two independently traveling collections this year.
The exhibition consists of 32 lithography, intaglio, relief and screen prints chosen by McCaslin based on strength of image and technical expertise to showcase the quality work produced in SADAH's print studio. 
"I wanted to give high school students a chance to see real art close up, work completed by individuals not much older than them," said McCaslin, who began the program in 1980 with $100 for mounting materials and shipping costs. Over the past 39 years, the exhibition has reached 141 middle and high schools (sometimes more than once).
"I find it hard to believe something so modest in concept and started many decades ago, is still flourishing," said McCaslin. 
SADAH ships the prints and handing instructions to the first school on the tour, and that school packs and ships the exhibit to the next school. McCaslin prepares each print and handles all related informational materials, publicity, shipping and scheduling. 
Learn more about SADAH's printmaking concentration.