Edith J. Carrier Arboretum: Children's Programs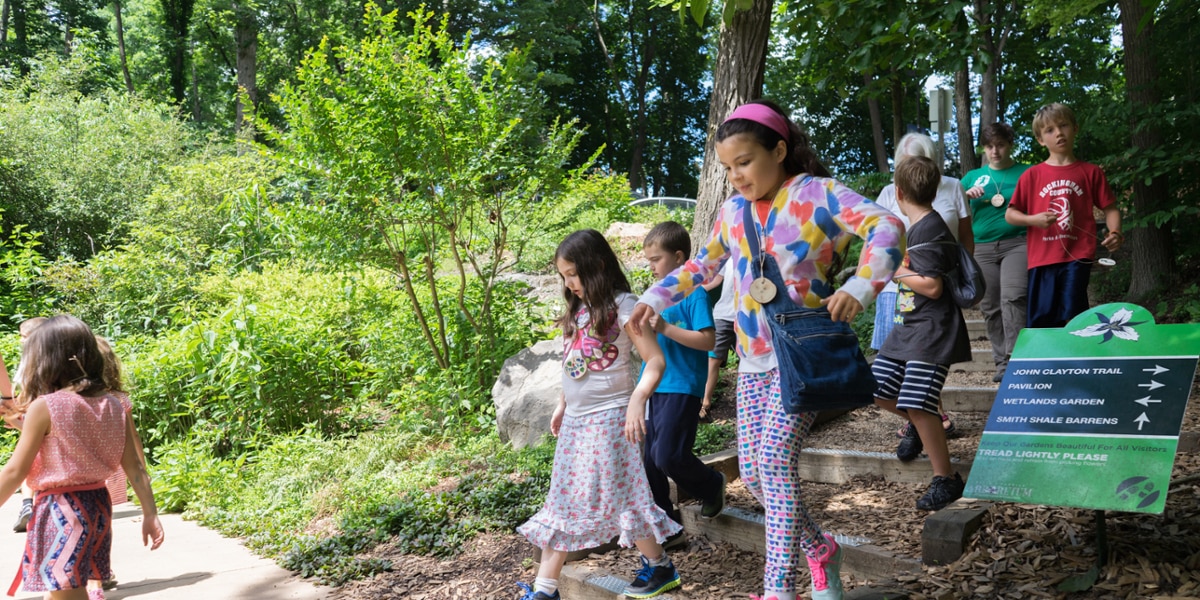 Upcoming Events
Fantastic Family Fun Event 
A Collaboration with Massanutten Regional Library
Saturday, May 21 | 10 AMFree, No Registration Required
We're excited to partner with the Massanutten Regional Library for a special Fantastic Family Fun Story Time! Children of all ages and their caregivers are welcome to come hear books and do forest-themed activities with our friends at the Edith J. Carrier Arboretum. Meet us in the reopened "At Home in the Woods" Family Garden (near the arboretum pavilion) for a fun Saturday morning of books and nature!
Storytime in the Understory
Monday, May 2, 16 | 11 AM - 11:30 AMFree, No Registration Required
Pre-School - Elementary suggested
Join us for a lovely spring morning Storytime in the Arboretum! Bring a blanket, and snuggle up to hear a nature-themed reading! In case of cold or wet weather, Storytime will take place inside the Frances Plecker Education Center. 
Fairy House/Gnome Home Building 
Monday, May 9 | 11 AM - 12 PM                                                              Free, No Registration Required
Pre-School - Elementary suggested
Weather permitting, we will meet at the Jurney Stage Garden to explore the magic and wonder of the outdoors with a story together, then journey out to the woods to build a habitat out of found natural materials for our fairy and gnome friends! If the weather is cold or wet, we will meet inside the Frances Plecker Education Center.
Nature Study Series: Explore the Flora 

Tuesday, April 19, May 3, 17, 31 | Time: 4:00PM - 4:45PM
All Ages Welcome
Has wonder and curiosity about the natural world ever made you stop and look a little closer? What's that called? How does it grow? Getting to know our flora is a rewarding life-long skill that just takes a little effort to cultivate. Drop in for our FREE Nature Study series for all ages! We'll take a short nature walk through the Arboretum, then hone in for a close look at one of our native plants! We'll make careful observations, learn some facts and lore, and do a little relaxed sketching. Bring a notebook or paper and some colored pencils, but we'll have extras on hand. Registration is appreciated but not required.
Register here: Nature Study Series Registration
Wondercraft: 
Up in the Garden, Down in the Dirt
Tuesday, May 10 | 3:30 PM - 4:30 PM 
Free, Register here: Up in the Garden, Down in the Dirt Registration
For Elementary School age Explorers (and older)
Join us on the Tree Terrace as we think about "What grows up must grow down." We'll work together to make a paper mural that shows some of the amazing things that are poking up above ground and   underground.
Wonderearth
Wednesday, May 11 | 3:30 PM - 4:30 PM
Free, Register here: Wonderearth Registration
For Ages 5 - 8
Join Dr. Chiara Elmi, assistant professor of mineralogy from JMU's Department of Geology and Environmental Science, as we explore some of the inorganic components of the Arboretum! Participants will hunt for rocks like limestone and quartzite, and we will observe and identify what we find together. Then, using a series of tests, we will analyze the physical properties of minerals like quartz and pyrite.
Birding for Beginners: What's Chirping in the Forest Soundscape
Saturday, May 21 | 11AM - 12PM
Free
All Ages Welcome
Join us for this FREE family program at the Frances Plecker Education Center all about birds in our forest soundscape! We will look and listen to help us identify some of the birds you'll see in Virginia, make a birding journal field guide to take home, and learn some birdwatching basics as we head out into the woods to see what's chirping! Bring some binoculars if you have them, or you can borrow some of ours. 
Registration here: Birds for Beginners Registration
Nature Journaling Classes
Nature Journaling is based on intentional observation of the natural world. Emphasis will be on recording our experience with drawing, writing and quantifying. We will include all three methods, but we will focus on visual recording. Art skills are not a prerequisite for this class because renderings are based on careful observations.

Instructor will provide the following for use during class: paper, clipboard, pencil, plastic eraser, fine Sharpie, watercolor pencils, brushes and water containers. All necessary art supplies will be provided, but students are welcome to bring a personal sketchbook or preferred media. Students will leave the class with information to help them continue journaling on their own.

Kelli Hertzler is a JMU alumna, having earned a B.S. degree in Fine Art with a Biology minor. She is an exhibiting artist whose work explores the natural world.
web: KHertzlerArt.wordpress.com
Facebook: KHertzlerArt
Spring 2022 Dates TBA
Looking Forward to Summer: Explorer Camp!

Registration is full, however, you may add your name to the waitlist!
Grades 4 - 6 | Jun 13 - 17 | 9:00 AM - 4:00 PM 
Grades 1 - 3 | Aug 1 - 5 | 9:00 AM - 4:00 PM 
Bring your own packed lunch Monday-Thursday, lunch will be provided on Friday. One snack will be provided each day.
We are delighted to host Explorer Day Camp through the JMU School of Professional and Continuing Education—Youth Programs! We will have 1 week of camp for rising 1st through 3rd graders and 1 week of camp for rising 4th to 6th graders.
The Arboretum Explorer Camp is the perfect place for budding naturalists, animal lovers, and young outdoor enthusiasts. Join us on the beautiful grounds of the Edith J. Carrier Arboretum as we learn about the soil and worms, insects, birds, and plants. Campers will hear stories, learn to "put on their owl eyes and fox feet," build a terrarium, visit the Food Forest and pollinator meadow on JMU's east campus, learn to identify local birds and trees, take an insect safari, and do lots of Arboretum exploring! Instructors will include Arboretum staff, JMU students, and local naturalists.
For more information and to register visit: Explorer Camp Webpage  
Contact Katie Rankin at
rankinkt@jmu.edu
for more information about youth programs at the Edith J. Carrier Arboretum.
The Backpack Program
Pre-School - Elementary
Explore the Arboretum with themed activities! This program is FREE. Backpacks are located in the lobby of the Frances Plecker Education Center, Monday - Friday (8 AM - 5 PM)
How it Works
1. Sign out a backpack of your choice:
- Reptiles & Amphibians
- Flowers
- Exploring Trees
- Forest Mammals
- Butterflies
- Insects
- Macroinvertebrate Study
2. Leave a driver's license with us, to be picked up after the backpack is returned.
3. Enjoy the backpack's activities and adventure onward!
Edith J. Carrier Arboretum
780 University Blvd, MSC 3705
Harrisonburg, Virginia 22807
(540)-568-3194 | ejcarboretum@jmu.edu 
Grounds | Free to the public | Dawn to dusk | 365 days a year
Frances Plecker Education Center | Monday - Friday | 8 AM - 4 PM