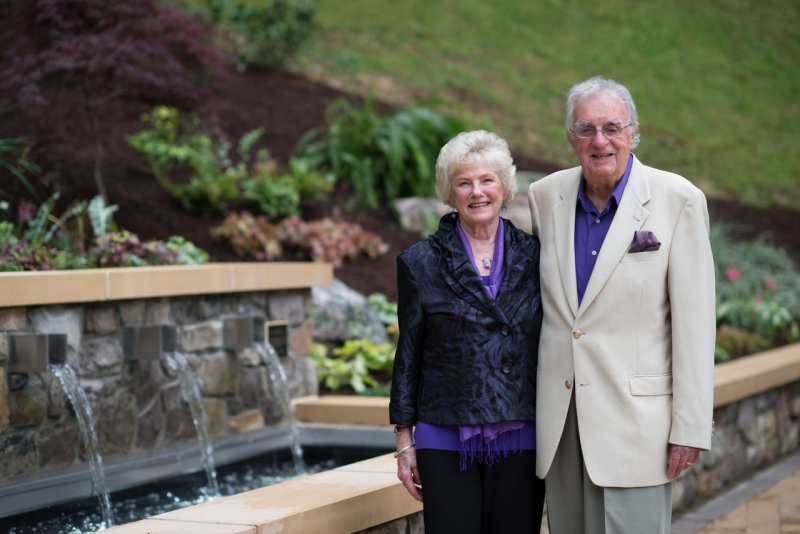 The Arboretum is named for Edith J. Carrier, the wife of JMU President Emeritus, Ronald E. Carrier. During his presidential tenure from 1971 to 1998, Mrs. Carrier served the university tirelessly as a hostess for academic, political, and corporate dignitaries visiting JMU, and as an event planner and event administrator for university executive events, but without pay or public acknowledgement. Naming the Arboretum in her honor was an acknowledgement of gratitude by the James Madison University Board of Visitors to officially recognize Edith J. Carrier's years of service to the university.
In 1964, JMU Botany Professor, Dr. Norlyn Bodkin*, began using the "College Woods" for educational purposes, along with other natural sciences faculty, Dr. Gilbert Trelawny and Dr. James Grimm. Dr. Bodkin started advocating in earnest for a campus arboretum in the early 1970s and in the early 1980s, after receiving President Dr. Ronald E. Carrier and the University Planning and Development Commission's approval, surveys were conducted, a master plan was soon developed, and funds were secured. The first phase included 26 acres dedicated to Dr. Bodkin's vision, most of which are named in his honor, the Norlyn Bodkin Oak Hickory Forest; home to a spectacular collection of spring wildflowers.
In October of 1986, a Board was created. They were charged with guiding the Arboretum's development, operations, and fundraising. In 1988, water features, including the pond, were created with the help of the U.S. Soil Conservation Service and this habitat continues to be one of the most iconic and endearing features of the Arboretum. And in April 1989, the Arboretum opened to the public. The forest acres, obtained in 1993, preserve 100+ year-old oaks and hickories with an expansive understory collection of rhododendrons and azaleas.
Recognition came when the Arboretum was designated a Living Legacy by the Commission of the Bicentennial for the U.S. Constitution on September 19, 1987. The designation required JMU to have a long-term maintenance plan, access for the general public, and preserve a woodland planting of native trees, shrubs, perennials, and selected cultivars. This award ensures the Arboretum will be a lasting legacy for James Madison University and the Shenandoah Valley community.
---
*Read more about Dr. Norlyn Bodkin's enthusiasm for botany and teaching in Pam Brock's 1995 article, "Plant Taxonomy at 60 mph".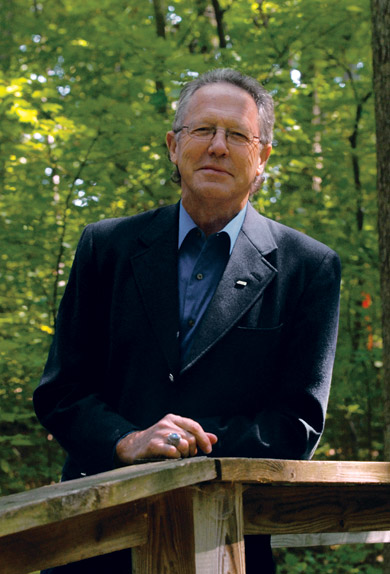 In Memory of Edith J. Carrier
August 1, 1934 – March 14, 2021
Our hearts are with the Carrier family in hearing about Edith's passing last Sunday evening. Edith J. Carrier, our namesake, was a remarkable woman who cared deeply about the Arboretum and James Madison University as a whole. We will always remember for her kindness, joyful presence, and love for gardening.


"Mrs. Carrier wore many hats while Dr. Carrier was president from 1971 to 1998 and chancellor from 1998 to 2002. Among them was as hostess for the many corporate, political and academic luminaries who visited Madison. She also enjoyed hosting numerous social gatherings in their home and attending every JMU sporting event she could.


She didn't seek the limelight, but her enormous contributions certainly did not go unnoticed by the James Madison University Board of Visitors. In 1998, to acknowledge her years of service to the university and as a recognition of gratitude, the Board of Visitors named the Edith J. Carrier Arboretum in her honor. Mrs. Carrier's legacy lives on in this beautiful, 125-acre woodland sanctuary and botanical garden on JMU's campus." - (JMU Statement, full article link below)


Edith J. Carrier Arboretum
780 University Blvd, MSC 3705
Harrisonburg, Virginia 22807
(540)-568-3194 | ejcarboretum@jmu.edu 
Grounds | Free to the public | Dawn to dusk | 365 days a year
Frances Plecker Education Center | Monday - Friday | 8 AM - 4 PM