Adult Programs at the Arboretum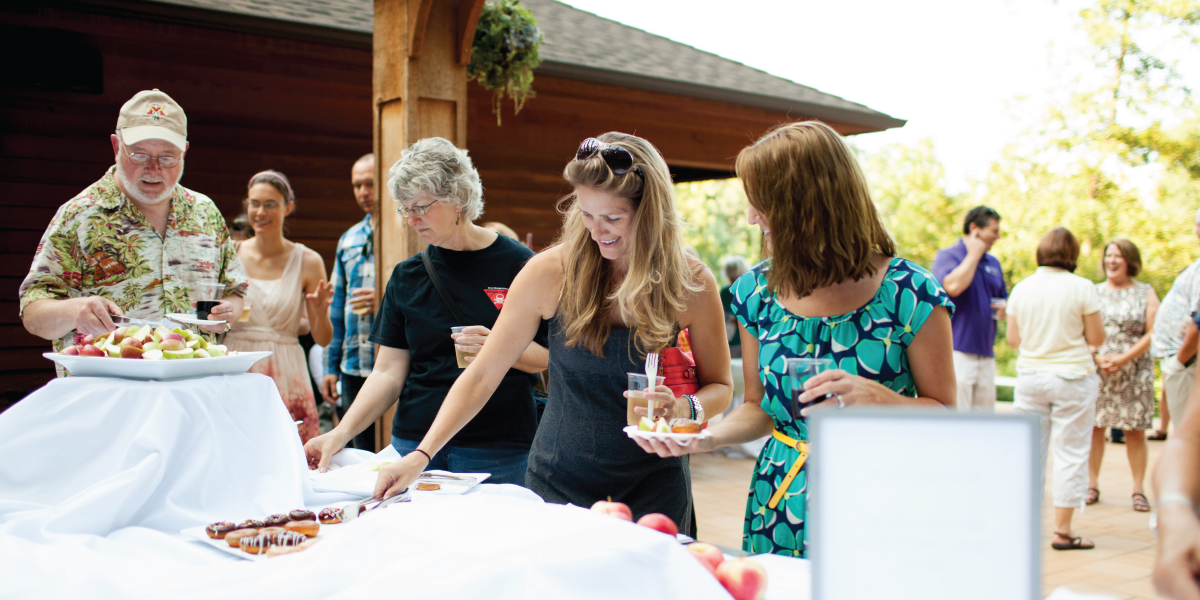 Unwind: Evening Sound Yoga

Connie Magee | Sacred Valley Healing Arts
WEDNESDAYS | 5:30 PM - 6:30 PM
10/30, 11/6

$19/Class

As the season shifts, so must our practice. Shake off the humpday drudgery with a flowing Vinyasa class and sound healing meditation, surrounded by woods, birds and all that nature offers. The gong and singing bowls facilitate brainwave entrainment and take you deeper into your movement practice. Beginners welcome! Bring yoga mat, props/yoga blocks, water and a blanket or jacket for Savasana.
Meet on the Ernst Tree Terrace
Meditative Sound Bathing
With Sacred Valley Healing Arts
THURSDAY, NOVEMBER 7 | 5 - 6 PM
$20 PER SESSION
Join Sound Healer and Yoga & Meditation Teacher Connie Magee for an etheric journey in the forest. Trees provide healing medicine for the soul, and the otherworldly tones of two large gongs and chimes provide a magical soundscape that dances within the sounds of nature. Find a comfortable spot on your yoga mat or lawn chair, settle into a guided mind-body meditation, and drift away. You'll notice the birds and woodland creatures connecting to the vibrations, and you will deeply relax and tune in simultaneously.
Meet at the Arboretum pavilion
Nature Journaling Workshop
Instructor | Kelli Hertzler
WEDNESDAY, NOVEMBER 6 | 1 PM - 4 PM
$25 REGISTRATION

Learn the basics of nature journaling in this one-session class where you will be equipped with tips, how-tos and inspiring ideas to kick-start what may become a life-long hobby. Then we will head outdoors to the Arboretum's rich variety of flora and fauna as Autumn is setting in, putting your new skills to work right away. In the event of foul weather, botanical samples will be brought into the pavilion or the Frances Plecker Education Center. Emphasis will be on recording careful observations with sketches and notes. Artistic skill is not a prerequisite.
Kelli Hertzler is a JMU alumna, having earned a B.S. degree in Fine Art with a Biology minor. She is an exhibiting artist whose work explores the natural world. She enjoys sharing this connection between art and science with anyone who will listen. KHertzlerArt.wordpress.com
Forest Bathing & Journaling Workshop
FRIDAY, NOVEMBER 15 | 12 PM - 2 PM
$20 REGISTRATION

Wander among the Arboretum trees applying mindful and multi-sensory exercises that make Forest Bathing an enjoyable and beneficial nature therapy. Then explore your most salient forest bathing experience through guided journaling exercises. Bring a notebook/journal. Join Annette Naber of Emerald Mountain Sanctuary in this two-hour workshop combining outdoor time with contemplative writing indoors.

Please dress for the weather. We will meet at the Pavilion.

REGISTER
Festive Greens: Modern Hoop Wreaths
With Sparrow's Flowers
THURSDAY, DECEMBER 12 | 6 PM - 7:30 PM
$40 REGISTRATION
Amanda Tutwiler of Sparrow's Flowers will be leading this year's Festive Greens Workshop! Join us in creating beautiful and unique modern hoop wreaths in this hands-on class. All participants will leave with their own metal hoop wreath, ready to display for the holiday season!

Meet at the Frances Plecker Education Center
ANNUAL ADULT & FAMILY EVENTS
February
Valentines Day Carriage Rides
Frances Litten Botanical Lecture & Invitiational Reception
Birding Workshop

March
Workshop and/or Wine & Cheese

April
Rise Good Friday & Easter Sunday Services
Guided Bird Walks
Guided Wildflower Walks
Spring Celebration Plant Sale

May
Guided Wildflower Walks
Wine & Cheese on the Ernst Tree Terrace
May Plant Sale with Butterfly Release

June - August
Summer Brown Bag Lunch Lecture Series

September
Wine & Cheese on the Ernst Tree Terrace
Fall Plant & Bulb Sale
Monarch Tagging Workshop

October
Remarkable Trees Field Trip

November
Workshop

December
Festive Greens Workshop
April - October | Private Greenhouse Shopping by Appointment
$50 Minimum purchase required, call (540)-568-3194 to schedule
Edith J. Carrier Arboretum
780 University Blvd, MSC 3705
Harrisonburg, Virginia 22807
(540)-568-3194 | ejcarboretum@jmu.edu 
Grounds | Free to the public | Dawn to dusk | 365 days a year
Frances Plecker Education Center | Monday - Friday | 8 AM - 4 PM