Adult Programs at the Arboretum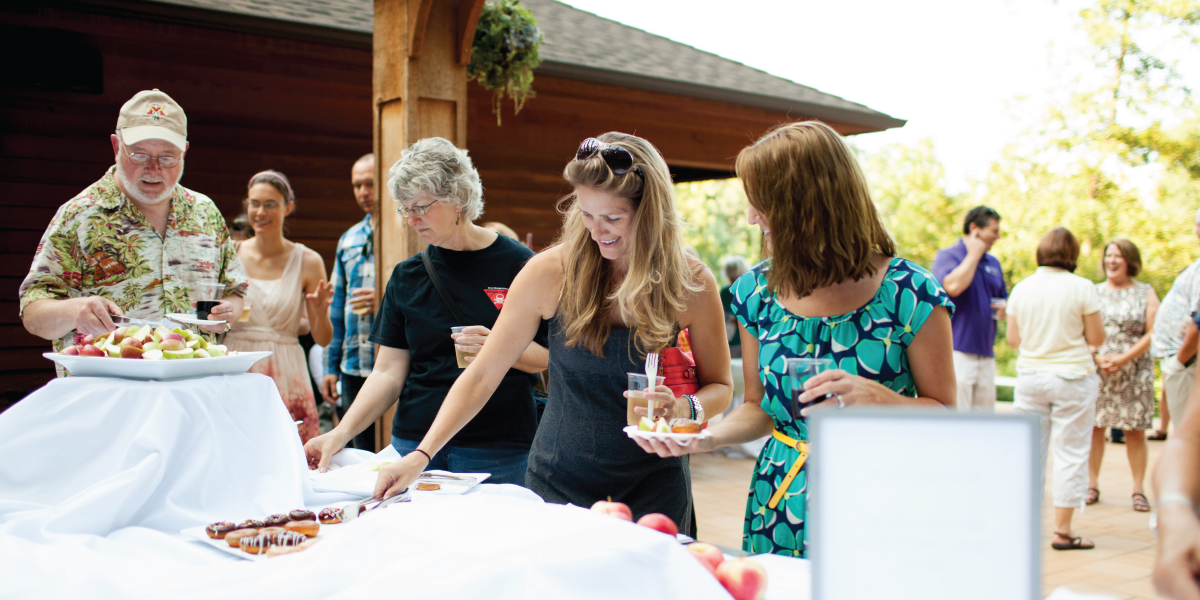 Herb Garden Intro: Brown Bag
Jen Tullo of Cyanwood Cottage
Wednesday 9/16 | 12 - 1 PM
Free Event, Meet at the Pavilion
The Arboretum's Herb Garden is a work-in-progress area that needs an infusion of community input and energy! One of our dedicated volunteers, Jen Tullo of Cyanwood Cottage, is leading the project of revitalizing the gardens. Join us for a special Brown Bag, where she'll go over the goals for the garden and ways community members can plug in, along with future educational offerings focused in the Herb Garden!
Sound Bathing
With Connie Magee
Wednesdays
Sept 16 & Sept 23 | 5:30 PM - 6:30 PM
Oct 14 & Oct 21 | 12 PM - 1 PM
$20 per session or $65 for full series ($15 off!)

Join Sound Healer and Yoga & Meditation Teacher Connie Magee for an etheric journey in the woods. Trees provide healing medicine for the soul, and the otherworldly tones of two large gongs and chimes provide a magical soundscape that dances within the sounds of nature. Find a comfortable spot on your yoga mat or lawn chair, settle into a guided mind-body meditation, and drift away. You'll notice the birds and woodland creatures connecting to the vibrations, and you will deeply relax and tune in simultaneously.

Please meet Connie on the Ernst Tree Terrace adjacent to the Frances Plecker Education Center.
Greener Than Grass: A (Virtual!) Landscaping Workshop
Presented by Sustainability Matters
Tuesday, September 22 | 6 PM - 8 PM
$15 Registration
Advanced sign up required

Turf grass is America's #1 crop...yet has no ecological value whatsoever. Learn to landscape more sustainably, replacing your grass with no-mow alternatives that offer food and beauty to pollinators, wildlife, you, and your family.

This will be an interactive virtual workshop, with plenty of time for Q & A on specific situations in your own landscape. Bring your problems, questions and ideas.

Zoom link for the workshop will be emailed to registrants.
Fall Plant & Bulb Sale
Friday, Sept. 25 - Saturday, Oct. 3 | 9 AM - 3 PM
**Closed Sunday, 9/27**
Shop from a wide array of native plants: bulbs, perennials, shrubs and trees! This ongoing sale takes place in the Frances Plecker Education Center and on the Ernst Tree Terrace.
Parking available along University Blvd (between our two stone gates), within Arboretum lots, and in designated Arboretum spaces in lot R-5.
Member Pre-Sale Event Thurs (9/24) | 5 PM - 7 PM
Become a Friend of the Arboretum before 9/14 and exculsivley shop our sale early! 
Fall Tai Chi
Grayson Pritchard | Blue Heron Healing Arts
Friday, Sept. 25 | 5 PM - 6 PM
$15 Registration
**(10/2) Rain Date**
Join instructor Grayson Pritchard of Blue Heron Healing Arts for an afternoon session of light exercise among the trees and stillness in the EJC Arboretum!
This is an outdoor event and intended to be on the lawn or within the Arboretum. Meet at the steps of the Frances Plecker Education Center.
ANNUAL ADULT & FAMILY EVENTS
February
Valentines Day Carriage Rides
Frances Litten Botanical Lecture & Invitiational Reception
Birding Workshop

March
Workshop and/or Wine & Cheese

April
Rise Good Friday & Easter Sunday Services
Guided Bird Walks
Guided Wildflower Walks
Spring Celebration Plant Sale

May
Guided Wildflower Walks
Wine & Cheese on the Ernst Tree Terrace
May Plant Sale with Butterfly Release

June - August
Summer Brown Bag Lunch Lecture Series

September
Wine & Cheese on the Ernst Tree Terrace
Fall Plant & Bulb Sale
Monarch Tagging Workshop

October
Remarkable Trees Field Trip

November
Workshop

December
Festive Greens Workshop
April - October | Private Greenhouse Shopping by Appointment
$50 Minimum purchase required, call (540)-568-3194 to schedule
Edith J. Carrier Arboretum
780 University Blvd, MSC 3705
Harrisonburg, Virginia 22807
(540)-568-3194 | ejcarboretum@jmu.edu 
Grounds | Free to the public | Dawn to dusk | 365 days a year
Frances Plecker Education Center | Monday - Friday | 8 AM - 4 PM