Adult Programs at the Arboretum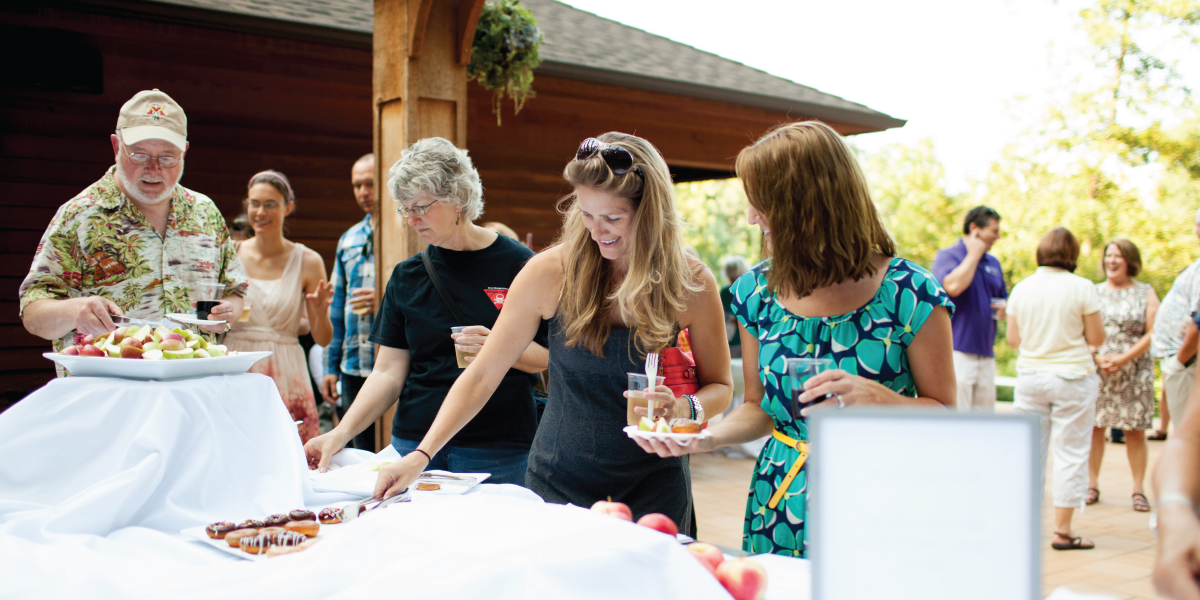 Brown Bag Lunch Lecture Series
Bring your lunch, join us for a new speaker each week!
Free events, no registration required! 
Invasive Species | Blue Ridge PRISM
Wednesday, July 24 | 12 - 1 PM
The Blue Ridge PRISM (Partnership for Regional Invasive Species Management) is a volunteer-driven organization dedicated to reducing the negative impact of nonnative invasive plants on the health of the natural and agricultural environment in the Blue Ridge Mountains of Virginia. Learn about the services they offer and recent updates on invasive species management in our area.
*Pavilion unless otherwise posted
---
Small Mammals of the Arboretum | Dr. Katrina Gobetz
Wednesday, July 31 | 12 - PM
Learn about Dr. Katrina Gobetz's research on small mammals and the species that inhabit the Arboretum!
*Frances Plecker Education Center
Sound Bathing
With Sacred Valley Healing Arts
THURSDAYS | 5:30 - 6:30 PM
8/1, 8/8, 9/19, 10/24, 11/7
$20 PER SESSION
Join Sound Healer and Yoga & Meditation Teacher Connie Magee for an etheric journey in the forest. Trees provide healing medicine for the soul, and the otherworldly tones of two large gongs and chimes provide a magical soundscape that dances within the sounds of nature. Find a comfortable spot on your yoga mat or lawn chair, settle into a guided mind-body meditation, and drift away. You'll notice the birds and woodland creatures connecting to the vibrations, and you will deeply relax and tune in simultaneously.
Meet outside the Frances Plecker Education Center.
Wine on the Tree Terrace
With Dr. Joan Maloof, Founder of Old-Growth Forest Network
FRIDAY, SEPTEMBER 6 | 5 PM - 7 PM
$20/GUEST
Let's talk forests!
A gathering to discuss what our forests do for us and what we can do for them
In this informal talk Dr. Joan Maloof will discuss the overall condition of planet earth's forests. She will discuss the critical role forests play in biodiversity, the water cycle, and the carbon cycle. She will explore the health benefits of forests as well as their aesthetic qualities. After this celebration of the forests she will share information about their condition and the the misleading information regarding forest management. In conclusion Maloof will discuss the Old-Growth Forest Network -- a project she started to create a Network of never-logged publicly accessible forests across the country. Maloof is a Professor Emeritus at Salisbury University, and the author of four books about forests.

Meet on the Ernst Tree Terrace
ANNUAL ADULT & FAMILY EVENTS
February
Valentines Day Carriage Rides
Frances Litten Botanical Lecture & Invitiational Reception
Birding Workshop

March
Workshop and/or Wine & Cheese

April
Rise Good Friday & Easter Sunday Services
Guided Bird Walks
Guided Wildflower Walks
Spring Celebration Plant Sale

May
Guided Wildflower Walks
Wine & Cheese on the Ernst Tree Terrace
Mother's Day Carriage Rides
May Plant Sale with Butterfly Release

June - August
Summer Brown Bag Lunch Lecture Series

September
Wine & Cheese on the Ernst Tree Terrace
Fall Plant & Bulb Sale

October
Remarkable Trees Field Trip
Fall Color Carriage Rides
Monarch Tagging Workshop

November
Workshop

December
Festive Greens Workshop
Holiday Carriage Rides
April - October | Private Greenhouse Shopping by Appointment
$50 Minimum purchase required, call (540)-568-3194 to schedule
Edith J. Carrier Arboretum
780 University Blvd, MSC 3705
Harrisonburg, Virginia 22807
(540)-568-3194 | ejcarboretum@jmu.edu 
Grounds | Free to the public | Dawn to dusk | 365 days a year
Frances Plecker Education Center | Monday - Friday | 8 AM - 4 PM