Adult Programs at the Arboretum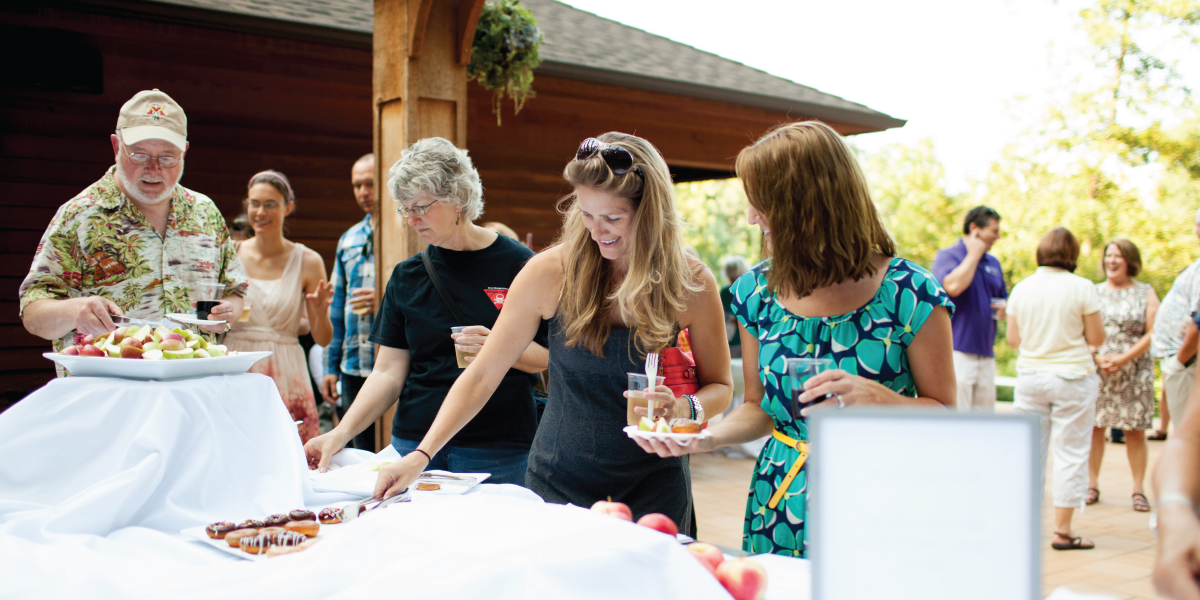 Spring Lecture Series: Coordinating Plants For Your Garden
Wednesdays | 12 – 1 PM
Frances Plecker Education Center
$12/Lecture or $35 for series (details below)

Have you been curious about the many plant species the Arboretum offers at our annual sales? And how they can all come together cohesively in your garden? Join us for a special lecture series February – April focusing on woodland wildflower, bird, and pollinator gardens!

Attendees will be given informational plant lists and a 20% off coupon valid for either of our spring plant sales.

|| Lecture Dates ||

February 12th | Woodland Wildflower Gardens
Jan Sievers Mahon, Arboretum Director

March 25th | Bird Gardens
Rich Wood, Landscape Manager

April 15th | Pollinator Gardens
Dr. Amy Goodall, Associate Professor, Geographic Science

$12/Lecture or
$35 Lecture Series Package – Includes a new membership or renewal of existing!

Register
Frances Litten Botanical Lecture + Reception
The Mycobiome of the Garden | Speaker, Eugenia Bone
Tuesday, February 25th
Reception + Book Signing (Open to the public) | 6 PM - 7 PM
Lecture | 7 - 8:30 PM
Festival Conference & Student Center Ballroom
**Free Event**

Join us for our 14th Annual Frances Litten Botanical Lecture! This year our reception and book signing will be open to the public. Light refreshments provided.

Most gardeners know about fungi for their destructive roles as plant pathogens, but many more species that are key to the well-being of gardens. The Mycobiome of the Garden is an illustrated talk that focuses on the helpful fungi. The talk describes the roles fungi play in plant life and why they are so important to plant and soil microbiomes, and subsequently, our food supply.
Eugenia Bone is a nationally known nature and food writer and author. Her work has appeared in many magazines and newspapers, including The New York Times, The Wall Street Journal, Saveur, Food & Wine, and Gourmet. Eugenia is the author of six books including Mycophilia: Revelations from the Weird World of Mushrooms, which was on Amazon's best science books of 2011 list and nominated for a Council on Botanical and Horticultural Libraries award. Eugenia is featured in the documentary Fantastic Fungi (2019) directed by Louie Schwartzberg, and a contributor to the companion book.
**Parking will be available to visitors in lots C12 and D3**
Winter Tree ID Walk
Thursday, March 5th | 2 PM - 3:30 PM
Registration Required
Free, Members-Only Event

Tree identification is tricky during the dormant months! You are invited to come along and appreciate the bones of the trees in winter. Join us for a guided walk with Arboretum Director, Jan Sievers Mahon and learn ways to distinguish tree species when the leaves are absent! Hot drinks in the FPEC to follow. Inclement weather cancels event. Look for posting on website/FB page.

This is a members-only event, click below to become a member or renew your expired membership.

Arboretum Membership

**Parking will be available in both of the Arboretum lots and along University Blvd between the two Arboretum entrances**

Meet at the Frances Plecker Education Center
Greener than Grass:
A Sustainable Landscape Workshop
Presented by Sustainability Matters
Saturday, March 21 | 9 AM - 12 PM
$30/Registration

Turf grass is America's #1 "crop"...yet has no ecological value whatsoever. Learn to landscape more sustainably, replacing your grass with no-mow alternatives that offer food and beauty to pollinators, wildlife, you, and your family.

Light refreshments will be provided. Advanced registration required, meet at the Frances Plecker Education Center
ANNUAL ADULT & FAMILY EVENTS
February
Valentines Day Carriage Rides
Frances Litten Botanical Lecture & Invitiational Reception
Birding Workshop

March
Workshop and/or Wine & Cheese

April
Rise Good Friday & Easter Sunday Services
Guided Bird Walks
Guided Wildflower Walks
Spring Celebration Plant Sale

May
Guided Wildflower Walks
Wine & Cheese on the Ernst Tree Terrace
May Plant Sale with Butterfly Release

June - August
Summer Brown Bag Lunch Lecture Series

September
Wine & Cheese on the Ernst Tree Terrace
Fall Plant & Bulb Sale
Monarch Tagging Workshop

October
Remarkable Trees Field Trip

November
Workshop

December
Festive Greens Workshop
April - October | Private Greenhouse Shopping by Appointment
$50 Minimum purchase required, call (540)-568-3194 to schedule
Edith J. Carrier Arboretum
780 University Blvd, MSC 3705
Harrisonburg, Virginia 22807
(540)-568-3194 | ejcarboretum@jmu.edu 
Grounds | Free to the public | Dawn to dusk | 365 days a year
Frances Plecker Education Center | Monday - Friday | 8 AM - 4 PM