Adult Programs at the Arboretum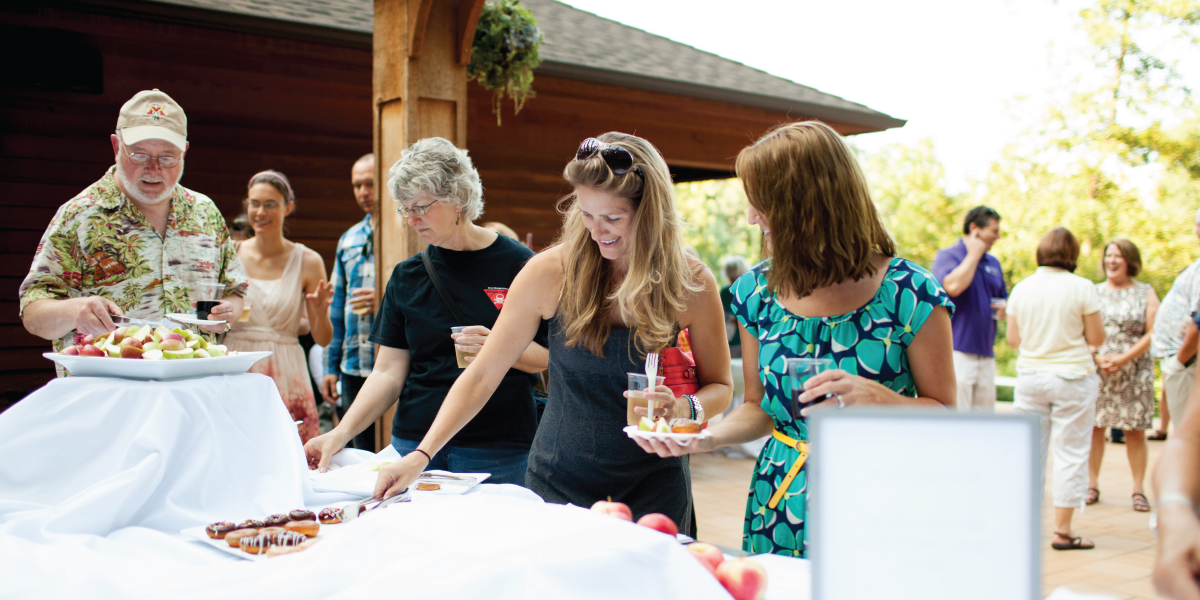 Fall Tai Chi
Instructor | Grayson Pritchard (Blue Heron Healing Arts)
FRIDAY, SEPTEMBER 28 | 12:30 - 1:30 PM
Join instructor Grayson Pritchard of Blue Heron Healing Arts for Friday lunchtime sessions of light exercise among the trees and stillness in the EJC Arboretum! These are outdoor sessions and intended to be on the lawn or within the Arboretum, see rain dates below. 9/28 rain date will be 10/5
Meet at the Frances Plecker Education Center.
$12/Class
Fall Plant & Bulb Sale

FRIDAY, SEPTEMBER 28 - SATURDAY OCTOBER 6
**CLOSED SUNDAY SEPTEMBER 30** 

9:00 AM - 3:00 PM
Come celebrate fall here at the Arboretum! Shop from a wide array of bulbs, native perennials, shrubs, trees and houseplants! This ongoing sale takes place at the Frances Plecker Education Center/Ernst Tree Terrace.  
Volunteer Meet & Greet

TUESDAY, OCTOBER 2 | 12:00 PM - 1:30 PM
Frances Plecker Education Center 
Have you thought about volunteering at the Arboretum and want to know more? Meet our team of dedicated volunteers over lunch and find out how you can join, learn about volunteer benefits and, enjoy a special tour of the Arboretum! 

Stop by our annual Fall Plant & Bulb sale afterwards, located in the Frances Plecker Education Center and outdoors on the Ernst Tree Terrace!

Lunch provided, advanced registration required:
JMU Full Time Staff Community Service Day

WEDNESDAY, OCTOBER 10
9:00 AM - 12:00 PM or 1 PM - 4 PM
Are you a member of JMU's Full Time Classified Staff? Did you know that you are allotted Community Service Leave each year that can be used right here in the Arboretum? Join us in spending a partial day working outside in the gardens! Come prepared to work in clothes that may get dirty. Gloves and other necessary tools will be provided, light rain or shine.
**Special Brown Bag Lunch Lecture with Virginia Wilderness Committee from 12 - 1 PM in the Pavilion! Stay after your morning shift or come early before your afternoon shift and enjoy your lunch with us as we learn about Virginia Wilderness Committee's mission and ways to get involved.
Brown Bag Lunch Lecture
Virginia Wilderness Committee
WEDNESDAY, OCTOBER 10 | 12 PM - 1 PM 
PAVILION
We're hosting a special Brown Bag Lunch Lecture during our JMU Staff Community Service Day! This lecture is free and open to the public, and we encourage our staff volunteers to attend before or after their shift! 

Lacey Dean, Virginia Wilderness Committee's (VWC) Outreach Coordinator, will share with us VWC's mission, campaigns, and ways to get involved. 

Organized in 1969, VWC works closely with the congressional delegation from Virginia to pass federal legislation under the 1964 Wilderness Act, which provides permanent protection to outstanding wild areas on public land in Virginia. VWC has been instrumental passing legislation that designated all existing wilderness areas in the George Washington & Jefferson National Forests and in Shenandoah National Park. 

The Virginia Wilderness Committee is a 501(C)3 non-profit citizens' group. Learn more about them at http://www.vawilderness.org/
Remarkable Trees Field Trip
SATURDAY, OCTOBER 20 | 8 AM - 5 PM
$15 Registration
Join Arboretum Director, Jan Sievers Mahon, for a day trip to Blandy Experimental Farm and State Arboretum for a part walking/part driving tour of their Champion Trees, their conifer collection (including a 83-85+ old Umbrella Pine), a 300-tree ginkgo grove and a 36-tree Cedar of Lebanon allee. Lunch is at Dirt Farm Brewing Company (not provided). Then on to Sky Meadows State Park to visit their two historic Kentucky Coffeetrees at the Mt. Bleak House (1860's farm house) and walk to several overlooks with spectacular views of the valley.
Meet at the Frances Plecker Education Center
Fall Color Carriage Rides
SUNDAY, OCTOBER 21 | 1 - 4 PM
$18 Adult | $12 Child | $75 Private Carriage
Enjoy the Arboretum's fall color beauty with a horse-drawn carriage ride! Meet at the Frances Plecker Education Center.
Call for reservations (540)-568-3194 (M-F, 8 AM - 5 PM)
Nature Journaling Workshop (Adults)
Instructor | Artist, Kelli Hertzler
WEDNESDAY, OCTOBER 24 | 1:00 - 4:00 PM
Learn the basics of nature journaling in this one-session class where you will be equipped with tips, how-tos and inspiring ideas to kick-start what may become a life-long hobby. Then we will head outdoors to the Arboretum's rich variety of flora and fauna as Autumn is setting in, putting your new skills to work right away. In the event of foul weather, botanical samples will be brought into the pavilion or the Frances Plecker Education Center. Emphasis will be on recording careful observations with sketches and notes. Artistic skill is not a prerequisite.
Instructor will provide the following for use during class: paper, clipboard, pencil, plastic eraser, fine Sharpie, watercolor pencils, brushes and water containers. Suggestions for building your own nature journaling kit will be explored during the class.
Recommended that you bring: backpack or tote bag to carry supplies, water bottle, a towel or portable chair for sitting outdoors - optional as benches are also available. Dress for outdoor activities. All necessary art supplies will be provided, but students are welcome to bring a personal sketchbook or preferred media.
Take some time to immerse yourself in nature. Grab a friend and sign up for this class!
Kelli Hertzler is a JMU alumna, having earned a B.S. degree in Fine Art with a Biology minor. She is an exhibiting artist whose work explores the natural world. She enjoys sharing this connection between art and science with anyone who will listen. KHertzlerArt.wordpress.com
Frances Plecker Education Center
$25/Participant
ANNUAL ADULT & FAMILY EVENTS
February
Valentines Day Carriage Rides
Frances Litten Botanical Lecture & Invitiational Reception
Birding Workshop

March
Workshop and/or Wine & Cheese

April
Rise Good Friday & Easter Sunday Services
Guided Bird Walks
Guided Wildflower Walks
Spring Celebration Plant Sale

May
Guided Wildflower Walks
Wine & Cheese on the Ernst Tree Terrace
Mother's Day Carriage Rides
May Plant Sale with Butterfly Release

June - August
Summer Brown Bag Lunch Lecture Series

September
Wine & Cheese on the Ernst Tree Terrace
Fall Plant & Bulb Sale

October
Remarkable Trees Field Trip
Fall Color Carriage Rides
Monarch Tagging Workshop

November
Workshop

December
Festive Greens Workshop
Holiday Carriage Rides
April - October | Private Greenhouse Shopping by Appointment
$50 Minimum purchase required, call (540)-568-3194 to schedule
Edith J. Carrier Arboretum
780 University Blvd, MSC 3705
Harrisonburg, Virginia 22807
(540)-568-3194 | ejcarboretum@jmu.edu 
Grounds | Free to the public | Dawn to dusk | 365 days a year
Frances Plecker Education Center | Monday - Friday | 8 AM - 4 PM