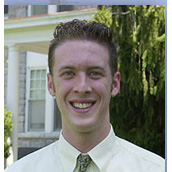 The Light Within
"People are like stained glass windows they sparkle and shine when the sun is out, but when the darkness sets in their true beauty is revealed only if there is a light within."
Noah Marlier embodies this quotation by Elizabeth Kubler Ross as it is his light from within that shines through the myriad of colored facets that make up the stained glass of JMU. In the past four years, as an Ambassador, an Orientation Program Assistant and devoted member of One in Four, Noah has taken the opportunity to really get to know others and develop meaningful relationships with them. Many of you know Noah as the energetic fun-loving joker on campus but what you may not know is that his sincerity and willingness to truly listen has also made him a confidant to many. Through lending his support to an amazing cause, his guidance to his network of friends and his unique inspirational personality to this university Noah Marlier symbolizes the All-Together One spirit. This recognition of Noah today will reflect how he overcomes the challenge of compassionate leader while remaining an admired and cheerful role model.
His active involvement as President of One in Four an all men's group that advocates prevention of sexual assault, perfectly illustrates Noah's empathetic nature. This group, One in Four named for the percentage of women who are assaulted in college, not only seeks to educate other men about the shocking realities of sexual assault but also to serve as a support systems to their victimized peers.
Consider a sunny fall afternoon on campus when the sidewalks are packed with students rushing to a class or just enjoying the day. Although it is sunny outside, campus seems to be a little brighter as Noah passes through the commons in his one in four tee shirt, smiling. He passes a young woman a stranger with a friendly hello when she turns and stops him. She said she knew he was part of 1 in 4 and had heard him speak all over campus, she wondered if she could talk to him about something that had happened to her Saturday night. And he began to listen. As students streamed past them on the sidewalk and tears streamed down her face, she explained that she had become part of the dreaded statistic. She came to him because she knew Noah wasn't just any student and although her pain was permanent confiding in him made her heart ache a little less. Its this sort of darkness that shows how brightly Noah's light shines.
Taking on the emotional burden of another is a prime example of selflessness. As a busy student and involved leader Noah's selflessness is exemplified in the importance he assigns to others. Noah is well known for making a 5 or 10-minute trip across campus into a 45-minute walk because he insists on stopping to have genuine conversations with the friends he encounters.
How many times a day do we pass friends with a quick "hey, how are you?" and don't even stop to hear what they really have to say?
"I think one of Noah's really unique qualities is that he is so busy. He's busy on campus and he's committed to his friends and his family and has school work and all of these other things like everyone else does but he has never fallen into that rut of 'hi, how are you? oh good I'm fine and I'm on my way'... he's never fallen into that rut when he asks you how's your day...he really genuinely wants to know about your day and I think that he cares so much for people and I think comes through in his relationships and his interactions with his friends roommates his family and with me. He really really does care."
This empathic nature expands beyond his involvement in 1 in 4 and into his network of friends. His peers look to him for honest advice and unwavering support. At a time in our lives as young adults when self-discovery is a constant conflict Noah's light remains steadily flickering for others to look to for guidance.
"When I decided to run for an executive position for student ambassadors this past semester I was a little hesitant. He just sat down and talked with me, he made me believe in myself. He gave me the confidence I needed. He's shown me how to be a leader."
Unique is a word commonly associated with this energetic young man. Mention his name to a group of students and many will instantly want to share their unique story of meeting Noah Marlier. Hector Salazar good friend and roommate recalls Noah's talent of boldly introducing himself to complete strangers. He often finds the opportunity to start a conversation by offering suggestions of snacks choices at the vending machines.
"He doesn't care about looking cool or fitting in exactly as you should... he's just himself," Hector says, "its all about making a connection and making people at JMU feel comfortable here."
By stepping beyond the expected and giving his all to build community, he puts himself at risk of looking foolish and feeling uncomfortable. This is a risk Noah often ignores because he knows he belongs to a community of friends. These friends who encompass students, faculty and staff are constantly inspired at his enduring adoration for this for this University apparent in painting his face at football games or promoting the school to potential students and their families.
Noah has spoken before about his gratitude to Madison for a great education, lifelong friends, and leadership skills. He recognizes the spirit of All Together One for these rewards.
We share in his gratitude because we have been rewarded as well. Noah has been a bright light beneath the stained glass that makes up James Madison University. He has left a lasting impression on this campus and community and we have no doubt that his legacy will continue to burn brightly here well after his graduation.
The JMU community would like to thank Noah Marlier.
Written by: Amanda Logsdon