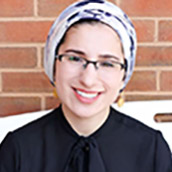 Our next recipient is a social justice warrior, a scholar, and an activist inside and outside of JMU. Daroon Jalil is a senior Psychology major at James Madison University with a minor in exceptional education, and she has impacted faculty, staff, and students from every corner of our campus.
Daroon is an active member of the Center for Multicultural Student Services, also known as CMSS, and has engaged in the (Diversity Education Empowerment Program), or DEEP Impact program, since its inception 3 years ago. She was a member of the first ever cohort of Diversity Educators in the 2014-15 academic year, and has been key in helping develop this valuable source of peer-to-peer diversity education. Her commitment to increasing awareness of issues related to access and inclusion shines through her as a Diversity Educator, and in her time here at JMU, she has helped to build a community of students who are knowledgeable of issues of diversity and social justice, planting seeds for their future growth. In her work as a Diversity Educator, Dani Lechher, the DEEP Impact Graduate Assistant at CMMS said,
"Daroon demonstrates the exceptional ability to take a complex, multi-faceted, and often controversial issue and communicate it in a way that is accessible to individuals of different identities and levels of social awareness. Her ability to reach students who are most indirectly impacted by these issues comes not only from her in-depth knowledge of social justice topics, but also from her empathetic understanding of other's experiences. She is an integral member of our team who both embodies the mission of our program and inspires her fellow educators to push through and be resilient when the work is challenging. Moreover, Daroon exhibits a distinct regard and sensitivity for those whose experiences are different from her own as she urgently works to learn about, understand, and advocate for other communities and social identities… Daroon exemplifies the essence of socially just and compassionate activism and she continually affirms the fundamental belief that education can be a platform for impactful and positive change."
Daroon has also shown a dedication to learning, not only through her academic studies and her success as a JMU Centennial Scholar, but also through her research in both biopsychology and justice studies. Remarkably, she is able to blend her love for psychology and passion for social justice, by investigating behavioral cues of implicit bias across race and gender.  She will be presenting her findings at a national conference this summer, and impressively, she is working towards publication. Her lab mentor, Dr. Melanie Shoup-Knox, shared with us that
"Daroon has been an enthusiastic member of [her] research lab over the past year. She contributes ideas and critical analyses to improve other students' projects; again, demonstrating how much she cares about the success of her peers."
Daroon's compassion and commitment to building community extends beyond JMU and into the local Harrisonburg area. For the past 4 years, Daroon has served 100 hours/year as a volunteer at her former school, W.H Keister Elementary, working with first-grade English Language Learners, refugees, and students with disabilities. To top it all off, Daroon is a fiercely kind person and steadfast friend. Dr. Shoup-Knox refers to her as a "'ray of sunshine' because she is always smiling and improving the lives of those with whom she interacts."
"Most of all," says De'Shay Turner, the Associate Director for CMSS, "she's an absolute joy to be around. I cannot say that I have ever seen Daroon have a bad day. Her positivity and resilience are commendable and are characteristics that anyone can learn from. CMSS is a better because of her involvement in the work we do, and JMU students are better because of her dedication to growing people." This is truly what makes an All Together One recipient spectacular—selflessness and a dedication to serving others.
Daroon, through her dedication to education and activism, her caring attitude, and her efforts to grow the JMU community, has truly made her mark at this university. Today, we recognize her accomplishments and contributions with the All Together One award. Please join me in celebrating Daroon Jalil.
Written by: Monique Waldman