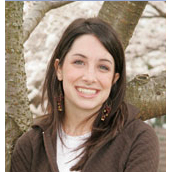 Intro: Passionate; dedicated; and determined. These are just a few words to describe Leah Goodman.  This year it gives me tremendous pleasure and honor to award Miss Leah Goodman with Omicron Delta Kappa's All Together One Award.  Leah was nominated by a fellow JMU student, Abby Chambers, one of Leah's closest friends.  Abby's nomination was vital in helping ODK choose Leah as this year's student award recipient.  We had many outstanding, well-written nominations to sort through, but Abby's nomination was extremely well-written, and Leah has achieved a tremendous amount in her years here at JMU.  I would like to read most of Leah's nomination aloud and then share with you other comments from Leah's family and friends.  Though this speech can, by no means, show just how special Leah is, I hope to give you some idea of just how amazing an individual Leah is.
Leah has not only gone out of her way to unify the people she encounters here at JMU, but she fully puts her whole heart and soul into each and everything she does internally and externally at James Madison University.
For the past four years, Leah has been involved with Alternative Spring Break and every year seems to amaze me with the different trips she coordinates.  The passion, caring nature and deep love that Leah portrays towards other people is indescribable.  Each spring break she sets out to help other people and volunteers her time to make a group of people come together as one and make a difference.  Each year they do.  Whether it is a trip to Sheffield place in Kansas City, Missouri, an adventure to Myakka River State park in Florida to clean up, or a trip to Biloxi, Mississippi to repair damaged homes from Hurricane Katrina, Leah is there ready to give her all to make a difference in the lives of others.
As for the Biloxi trip, I have never seen more determination, passion, and love from the group of people that Leah unified to enter this disaster zone.  Instead of going home to be with family and friends on Thanksgiving break, Leah and her crew that she organized drove down to Mississippi to help those victims in replenishing their homes.  Leah was interviewed by a local NBC affiliate and broadcasted live recognizing all of the group's hard work, determination, and fellowship.  Because of Leah, this group worked together as one to help bring back a smile to those victims of hurricane Katrina.  The organization and devotion to this trip to Biloxi truly shows how passionate and dedicated Leah is to making a difference and helping those in need.  She is a hero in my eyes and in the eyes of anyone who comes into contact with her.
Leah is one of those people who go unrecognized for all the amazing things she has done here at this university.  She is the most selfless person I know and goes above and beyond in anything she puts her heart into.  Not only is she a natural leader in a group setting, but she is also an amazing friend on an individual level.  When it comes to friendship, Leah truly values friends in her life, listens to them, and is always there to provide loving support.  She is one of those once in a lifetime friends that I have been lucky enough to find.
From working as an orientation program assistant and influencing those incoming students, to leading alternative spring break trips throughout her collage career, and to potentially belonging to the Peace Corps after graduation, Leah has ultimately made a difference at JMU and left a huge mark. 
I have asked Leah's friends and family to elaborate on the kind of person Leah is. When asked to describe Leah, Matt Skirven said this: "If I could describe Leah Goodman in one word, it would be passionate.  She is one of my most favorite people to spend time with because she is so genuine in everything she says and does.  She has an endless supply of energy and enthusiasm, yet a strong sense of down-to-earth ness about her.  She loves helping people and that is evident in all of her actions.  She is by far one of my greatest friends and role-models."
Leah's mother, Josephine, sent a wonderful email about her daughter: "Leah does what she does because that is who she is---it is never for recognition.  Leah knew that JMU was the school for her the moment we first drove through the main entrance onto the campus.  It was a beautiful summer evening and we had just driven 4 hours for her first visit.  He decision was made.  And that is how life goes for Leah.  She decides she needs to be somewhere or do something, she points her feet firmly in the direction and she goes.  
She may hit some bumps along the way, but they are just bumps that add to her experience; they never deter her.  She has jumped at every opportunity available to her- from skydiving to Biloxi.  As through her entire life, these opportunities have allowed her to grow as a person because she was open to the experience.  I know that she has touched as many lives as have touched hers.  Leah started life on her own terms-2 weeks late- and she is still so much her own person.  She has always loved being around people- as an infant she was happy as long as she was making eye contact with someone.  As a toddler, she wanted to talk to everyone she saw.  As long as people are around her, she is happy. 
As a little girl, she wanted to be a ballet dancer and she was very fortunate to be able to dance with the Pa. Ballet in the Nutcracker for many years.  Her first role was that of an angel-so fitting for her.  She is our angel and has been an angel to so many other people.  She has danced her way through life with a huge smile on her face.  She has approached the hurdles in her life with ease- just as she did the hurdles in track in high school.  Although she was very short for a hurdler, it didn't bother or hinder her.  She flew over the hurdles with a big smile all the way to the states.  That's just Leah-she makes it all look so easy.  She is a wonderful sister to her 2 brothers and younger sister.  She is their biggest cheerleader.  Leah has been a joy to raise and we are so very proud of her and excited for her future."
Conclusion: As Abby wrote in her nomination, the most amazing moments in life are to watch those enlightened people make such a positive contribution to something and take no credit at all.  These individuals give everything they have to make a difference and help others, and they have this remarkable and extraordinary ability to guide and lead others into becoming "All Together One." Well, today, it is my honor to finally reward Leah Goodman for all of the remarkable things she has done for the JMU community and those around her.