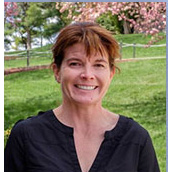 Dr. Joy Ferenbaugh's ability to communicate her passions in an informative and enjoyable way makes her teaching influential and encouraging, but it is the impact on her community and environment that make her an ideal candidate for the All Together One award.
Joy is a valued educator who embodies her name; her enthusiasm and welcoming smile inspire her student's curiosity, while the pride and interest she places in her students shine through their understanding and success.
As a professor, she is organized and productive. She designs course curricula with care and invests in the intellectual growth and well being of others around her. Her students have described her as brave and honest. Currently, she is the co-director of STEM outreach program at James Madison University. She works with regional K-12 schools, arranging field trip visits to JMU and faculty visits to the school.
Joy understands the implications of inspiring young students. Her teaching style and mannerisms help to interest students in the topic and make their understanding of science feel worthwhile and valued. She has the ability to explain pieces of her expansive knowledge to college students and younger students alike, in a manner that fits her audience.
She is in tune with people around her, and values the importance of working together for greater progress. Therefore, it comes as no surprise that she is presently the chair of the K-12 Outreach committee in the ISAT department as well.
Those close to her can attest to her "deep and enduring love of creatures great and small." People recognize her inclination to natural beauty of the world through her love for animals, national parks, cake and science. The beauty she sees in the world inspires her curious and adventurous attitude towards life. She is an adventurer and a traveler.
Her broad scope of adventure and travels to places like Africa and Tanzania speak for her openness and gratitude towards life. With her kindness and enthusiasm to share her knowledge, it's clear she has not just made a difference in her community, but has shared her light globally.
She is able to reach people because she maintains a balance of self growth and sacrifice. She is motivated and energetic, with a constant goal to expand her knowledge and cultivate her skill set. She pushes herphysical limits by biking alongside the Shenandoah Valley Bicycle Coalition.
She stretches the scope of her intellect through research in the anthropological effects on the environment with an ultimate goal of minimizing human impact. On the contrary, the impact she has on the people she encounters does not go unnoticed. Her attitude and dedication is what her productivity to thrive and what inspires others to work together.
Joy has invested a great deal of time and energy into exploring and sharing her passions with a goal for a positive effect on the environment. Her outlook creates a web effect of positivity and her bold achievements have helped to improve the field. She has held multiple teaching jobs, reaching aspiring scientists across the country. Her success speaks for her work ethic and her influence shines through her teaching.
An outgoing adventurer, and a groovy woman with a mean frisbee arm and an appetite for cake, Joy Ferenbaugh is leaving her mark on the JMU and Harrisonburg community. Dr. Joy Ferenbaugh, please come to the stage to receive your 2016 All Together One Award.
Written by: Monique Waldman