*Offered by the Hart School of Hospitality, Sport and Recreation Management, an independent affiliate of the College of Business. Not AACSB accredited.   **Offered by the School of Strategic Leadership Studies, an independent affiliate of the College of Business. Not AACSB accredited.    
Nothing in the business world operates in a vacuum. That's why we learn by doing. Learn more.
Applying academic theories to real-world scenarios. Rolling up our sleeves to serve the community. Analyzing business trends through research and becoming globally-minded citizens through study abroad experiences. 
The outcome? A successful future.
Highlights
JMU is one of only 182 institutions worldwide with both business and accounting accreditation from AACSB.
We have the #1 pass rate on the CPA exam.
In 2016, JMU College of Business was no. 18 among public undergraduate business schools by Bloomberg Businessweek.
Our marketing students consistently place or win social media competitions by Google, including the 2016 Global Winners for Social Impact award.
All juniors take Integrated Functional Systems (COB 300), a 12-hour course that introduces students to the interrelations of the various business disciplines and engages students in a business plan competition.
JMU MBA Programs are #21 in the nation by U.S. News & World Report, 2017.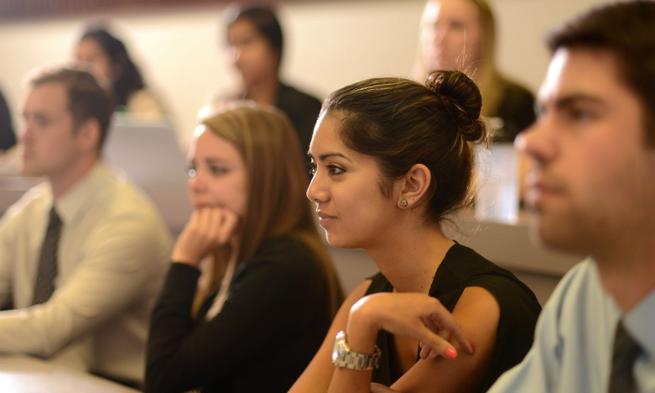 'As a pharmaceutical sales representative, my sales territory is my business. COB 300 equipped me with the skills I need to analyze, strategize and ultimately sell my business, my territory, to my investors, my upper-level pharmaceutical management. The value of COB 300 is priceless.'
— Emily Shockley ('06), Pratt health care representative for Pfizer Inc.