Whitten Maher Submission Guidelines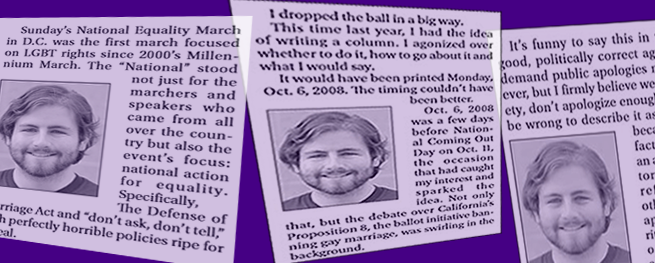 The Whitten Maher Scholarship for Writing and Design invites writing- and design-based submissions produced for academic and/or non-academic purposes from ALL returning* full- or part-time James Madison University undergraduate students in ALL academic disciplines.
Whitten Maher Memorial Scholarship applicants must use the Madison Scholarships Hub to submit their work for consideration. Information about the Hub and the steps you'll need to work through is available below.
Complete submissions for the Whitten Maher Memorial Scholarship (WMMS) will feature two components:
Whitten Maher Memorial Scholarship
---
Your Submission
The Whitten Maher Memorial Scholarship for Writing and Design was established to acknowledge and support work created by JMU undergraduate students that conveys the compassion, intensity, and well-informed reason of its namesake.
Your writing- or design-based submission should engage one or more of the following concerns:
• educate audiences through a civic purpose,
• promote empathy rather than derision, and/or
• seek to encourage populations who feel unrecognized or misunderstood
Past WMMS submissions have included long- and short-form creative non-fiction and journalism, essays and scholarship, plays and poems, artwork and photography, architectural and graphic designs, blogs and websites, videos and soundfiles, and museum and library exhibition installations, as well as texts that have blended and/or challenged these genres. The WMMS Selection Committee invites submissions that explore emerging 21st-century writing-design relationships.
The Madison Scholarships Hub accepts most common file formats. If you would like to submit online content, you can upload a Word file or a .pdf to the WMMS Scholarships Hub with your name, the title of your submission, and a URL as your response to the first "supplemental question." You can use the same approach if the Hub does not accept your file format: just upload a Word file or a .pdf with your name, the title of your submission, and a note indicating that you have attached your submission in an email to the WMMS address: whittenmaher@jmu.edu.
Your Cover Letter
Your cover letter is an important part of your submission. Effective WMMS cover letters help readers appreciate how your work engages the scholarship criteria and reflects the spirit of Whitten Maher.
You can attach your cover letter as a Word or .pdf file as your response to the second "supplemental question" in the Scholarships Hub's listing for the WMMS. Please offer contact information, your year in school and major, and—if applicable—the course/professor or organization for which you created your submission.
The WMMS "Scholarship Recipients" page builds on past winners' cover letters. For general advice regarding cover letter content and format, check out the "Cover Letters and Letters of Inquiry" resource created by JMU's University Career Center. The professional writing consultants in JMU's University Writing Center can offer additional help as you craft your WMMS cover letter.
How to Submit through the Madison Scholarships Hub
To access the Madison Scholarships Hub, sign into your MyMadison account. In your Student tab, click on the Madison Scholarships Hub logo.
Complete the Hub's quick "General Application" form. You can revise this form later, but you must submit it to even see the Whitten Maher Memorial Scholarship and other JMU Foundation scholarships.
After you submit your General Application, the Hub will offer a "Recommended Opportunities" page that should include the Whitten Maher Memorial Scholarship (you'll see something like this). If the WMMS does not appear in your list of Recommended Opportunities, click on the "Opportunities" tab, choose "Ours," and type "Whitten Maher" into the Keywords text box (click here for what the page will look like)
Once you've found the Whitten Maher Memorial Scholarship in the Hub, you'll see a description of the scholarship and our submission guidelines (it will look like this).

You can upload your submission (either your text or a document with a link or links) and your cover letter just like you would upload a file to Canvas or attach a file to an email.

Complete your submission by clicking on the "Apply" button in the bottom right corner of the page.

Problems/Questions: see the "Fine Print" section below.
Models/Inspiration
The texts featured on this site—Whitten Maher's work as a Breeze writer and designer and the pieces created by past scholarship recipients—may serve as models for your submission.
Fine Print
* The Whitten Maher Memorial Scholarship is open to all current JMU undergraduate students who will remain enrolled as JMU undergraduate students in the following Fall semester (when the scholarship will be applied toward tuition). In other words, the scholarship is open to students who intend to graduate in December 2022.
* The WMMS Selection Committee can consider only one piece from any student in any academic year. The WMMS Selection Committee does accept submissions created by two-person teams. Were the Selection Committee to recognize a group-authored piece, each student must be awarded an amount not less than $1,000.
* Scholarship recipients are announced in early April and are honored at an awards ceremony later in the Spring semester.
* Trouble with the Madison Scholarships Hub? Can't attach a file? The WMMS email address is whittenmaher@jmu.edu. Questions? Direct inquiries to WMMS committee chair Kevin Jefferson (jefferkx@jmu.edu).