Women for Madison News & Events
Making History by Changing the Future
The 100+ women of JMU's Amethyst Circle are on a multi-million dollar mission to reduce financial barriers for freshmen seeking to attend JMU, help JMU recruit more top students and send more JMU graduates out into the world. Making history and changing the future: Does working together get any better?
Is Philanthropy Supposed to Be This Exciting?
Through Women for Madison's Amethyst Circle, Adora Williams (JMU '95) comes full circle herself: from needing financial aid so she could attend and graduate from JMU, to "thinking big" with other JMU women who are emerging as a major philanthropic force in empowering new students to do the same.
Staying Connected
Our "Women in Tech" webinar on December 9, 2021, discussed how to navigate barriers and seize opportunities by successful JMU alumnae leaders in the tech industry.
Join the Amethyst Circle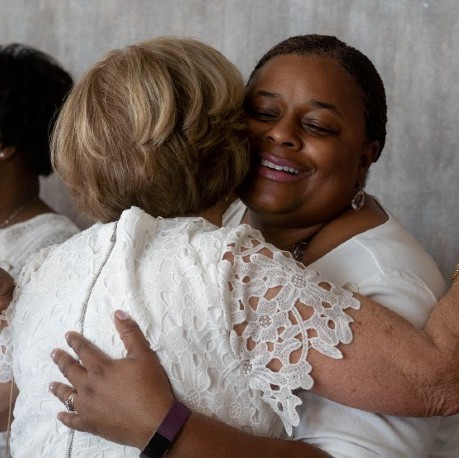 On May 22, Women for Madison announced its founding of the Amethyst Circle, a first-of-its-kind giving circle at JMU. Goal: $1 million for scholarships and female-focused philanthropic programming. 
Summit 2021
May 21-22, Women Who Amaze 2021 Summit was a weekend of strengthening friendships, growing your JMU alumnae network and rediscovering a love for all things JMU. Find out more.
A Time to Un-Win(e)d
On September 24, Women for Madison gathered to raise a glass of the grape to toast its new Amethyst Circle initiative while learning about viticulture at local winery Brix and Columns. See the story.
JMU Women Power Up
Beth McConnell Bliss ('84) on the importance of engaging and investing in JMU's mission: "I want women to step forward now to become a significant philanthropic force for JMU into the future."
Supporting Our Students
Women for Madison learned to set souls on fire from Slay Like a Mother author Katherine Wintsch ('99) at a Richmond rally hosted by Lauralee Allen ('07) and Allison Purcell ('95). The event raised $3,600 for JMU student scholarships.
---
Women for Madison has been an active organization at JMU since 2013. See stories from the past in our online News Archive. For the most up-to-the-minute news and information, please connect with us on social media.