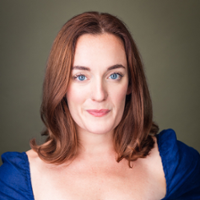 Visiting Assistant Professor of Musical Theatre

Kate Lumpkin, CSA is a Creative Development Specialist who develops talent and new works through casting, directing, teaching, & writing.

She is the Founder of and Lead Casting Director at Kate Lumpkin Casting, CSA. Collectively, as a casting professional, she has worked on over 40 TV/Film productions and 80 theatrical productions in New York City and across the USA including shows at The Kennedy Center, The Actors Theatre of Louisville, The A.R.T, NYTW, and many others. She teaches workshops in New York and at numerous Colleges and Universities all over the world and was the former Head of Education at The Broadway Collective. 
Some of Kate's selected regional and touring casting credits include the Broadway First National tour of Bandstand, Endlings at American Repertory Theater (dir. Sammi Cannold), West Side Story at The Kennedy Center (dir. Francesca Zambello), On The Town at The Kennedy Center, Beau at The Adirondack Theatre Festival, Evocation to Visible Appearance at Actors Theatre of Louisville, We Are Here at The Cosmopolitan of Las Vegas (dir. Steven Hoggett), Opium at The Cosmopolitan of Las Vegas , Absinthe at Caesars Palace of Las Vegas, A Christmas Carol 18', 19' at Actors Theatre of Louisville, and Reunion '69 & Reunion '85 at the Newman Center. In New York, Kate has cast, OSCAR @ The Crown, We Are Here (dir. Steven Hoggett), Medusa, We Are The Tigers, Safeword, Afterglow, Cleopatra, The Bad Years, Eco Village, A Complicated Woman (dir. Jeff Calhoun), Unraveled, Letters to the President, Reunion '69, Single Rider, Diaspora, The Other Side of Paradise, Counting Sheep, Sitting Bull's Last Waltz, The Excavation of Mary Anning, Agent 355, Emma: A New Musical, Love In Hate Nation, Five Points, Hart Island, Eastbound, Interstate, Honey Dipped Apocalypse Girls, and Fefu and Her Friends. For a complete list of shows and casting history, please visit kate-lumpkin.com/casting.
In addition to casting and teaching, some of Kate's life adventures have led her to work as the VP of Marketing and PR for a major private consulting firm, spend time working at an elementary school in Tanzania, work in development for National Geographic, and be a brand ambassador for numerous high end clothing and lifestyle companies. She was educated at Ithaca College, Indiana University, and The William Esper Studios in New York City.
kate-lumpkin.com // @katelumpkin