Next Steps - Summer Dance Intensive
Next Steps - Summer Dance Intensives 
June 24th to June 29th, 2024
The School of Theatre and Dance at James Madison University is proud to partner with DanceWorks Chicago (DWC) to present, Next Steps – Summer Dance Intensive. This intensive offers students two exciting program options for engaging with us and DanceWorks Chicago:
3-day intensive (ages 12-15) – June 24

th

through June 26

th

6-day intensive (ages 15+)  – June 24

th

through June 29th

 
These two dance intensives are designed specifically for committed and curious students ages 12 and up. Participants will study with nationally and internationally recognized artists and experts in the field, and will gain real-world experience being coached in repertory from a professional dance company!
Space is limited for participants (25 dancers per intensive) and will be filled on a first-come first-served basis. There is no audition for the intensive. 
Priority registration will be given to dancers who register before April 12th. Dancers registering before April 12th will receive a JMU Tote Bag.
If you are a dancer under 15 years of age and would like to participate in the 6-day intensive, please contact Matt Pardo (pardomj@jmu.edu) to submit a video for acceptance into this program.
Dancers will engage in:
Daily technique classes (Ballet, Modern, Contemporary), taught by JMU Dance Faculty and members of DWC, including Artistic Director Julie Nakagawa

Daily rehearsals of repertory for each program.

A new work by JMU Dance Faculty member for the 3-day Intensive
Repertory from DanceWorks Chicago for the 6-day intensive

Professional development seminars including audition preparation with JMU Faculty and Julie Nakagawa.
1 performance opportunity for each intensive.  The performances will showcase the repertory work and will allow students to utilize some of their audition skills as well!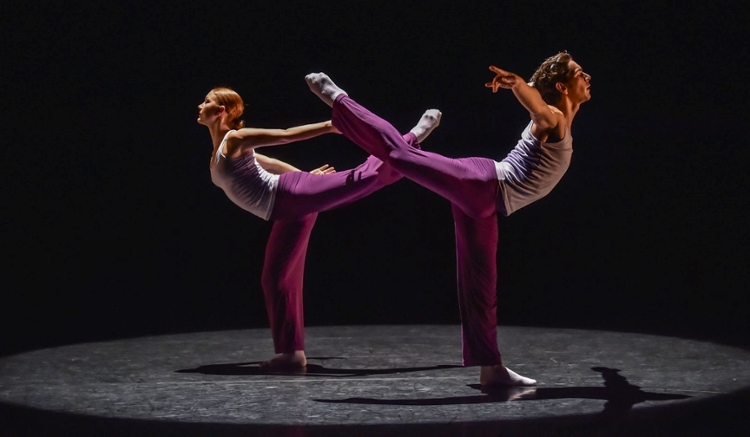 ***Pictured above: DanceWorks Chicago in DayDream by Joshua Manculich
Photo by Richard Finklestein
Schedule:
To see the schedule for all the programs – Click on the links below
Important Information:
Cost Breakdown with On-Campus Housing and Food:
| | |
| --- | --- |
| 3-Day Dance (housing and Food)* | 675.00 |
| 3-Day Dance (no housing and only Lunch)** | $475.00 |
| 6-Day Dance (housing and food)* | $1275.00 |
| 6-Day Dance (no housing and only Lunch)** | $875.00 |
* These prices are for a double room in a dorm and include 3 meals a day in the dining hall
** These prices are for tuition costs and only include lunch on campus in the dining hall
ACTIVITIES: All tuition includes  group activities on and off campus, which will be announced at a later date closer to the registration deadline.
LUNCH: All prices above (even those selecting options for no housing/food) include lunch in the dining hall on campus.
All payments are 100% refundable up until May 31st, 2024.
Important Deadlines:
Early-bird Registration Deadline:

April 12th, 2024

Register before April 14

th

to receive free JMU SWAG!

Scholarship Deadline:

May 17th, 2024

Award emails will be sent out on or before

May 22nd, 2024

.  All applicants will be notified either way.

Registration withdraw deadline for a 100% refund:

May 31st, 2024
On Campus Housing and Food:
         Next Steps participants have the option to stay in JMU dorms while in the program.  This exciting opportunity allows the students to get the full JMU student experience.
Dorm Information:
Double Dorm rooms are available.

Double rooms will be assigned randomly unless there is a specific request for a roommate.

Linen service is included in every room:

Linens include: 2 sheets, 1 pillowcase, 2 towels, and 1 washcloth.

Double towels will be provided for stays greater than four (4) nights. 

Linens are provided folded in each room (beds are not pre-made).

Pillows are provided (free of charge) for each bed; blankets for air-conditioned dorms.
Campus Dining Information:
For participants who are staying in campus housing, you will receive 3 meals a day in JMU's award-winning dining halls.  If you are staying in the dorm, the meal plan is required.

For those participants who are not staying in the dorm, Lunch at the campus dining hall is included in your tuition cost.
Hotel and Harrisonburg Information:
Next Steps participants who are not local, can utilize campus housing/food but are also welcome to stay in hotels in the Harrisonburg area.  If you choose to stay at a hotel, evening supervision is not provided. Please reach out to Matt Pardo (Email: pardomj@jmu.edu) with any specific questions.
For more information on Harrisonburg, please visit the Visit Harrisonburg VA website.
Here are some local hotels that are near the beautiful Forbes Center for the Performing Arts, which will be the base of all Next Steps Summer programs…
Scholarships:
Next Steps will offer a limited number of needs-based scholarships for the 2024 Summer Intensive. Scholarships are awarded by filling out the Next Steps Scholarship Form before the deadline of May 17th, 2024. You must register for the intensive first and pay in-full before your scholarship application can be processed. The award notifications will be sent out via email on or before May 22nd, 2024 and the award recipients will receive a refund for their awarded amount via a check in the mail.   All payments are 100% refundable up until May 31st, 2024.
Meet some of the dancers of the 2022 intensive as they pick one word to describe their time at Next Steps at JMU!