DUKE TO DUKE
LSI wants to continue to be a resource for our fellow Dukes! Here we offer a few tips and strategies to help you stay on track with your online classes. We know it may feel a little chaotic and overwhelming. We encourage you to be patient and take care of yourself. Create a plan and adjust your studying according to your personal needs and goals.
To download the information on this page in the form of a PDF infographic, click on the image below: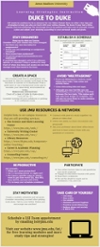 STAY ORGANIZED
Keep up-to-date on Canvas
Consider how your classes may have changed.
Are there any new due dates for assignments?

Is how you are submitting an assignment changing?

Have exams been postponed?

Are group projects/presentations now individual?
If anything has changed, note it in a planner, agenda, or calendar! Using a method to keep track of when due dates and exams are can help manage work that needs to be done.
ESTABLISH A SCHEDULE
Hold yourself accountable and create a schedule for yourself! Download our helpful schedule templates below:
AVOID "MULTITASKING"
If you are listening to a lecture, avoid doing other tasks. Take notes and actively listen.

Close distracting tabs and apps.

Although you may feel like you are multitasking, you are actually switching between the two tasks. This makes each task take even longer to complete. You will also be more likely to make mistakes and remember less.
CREATE A SPACE
Ask yourself what kind of atmosphere you focus best in. Did you usually work best on the 3rd floor of Carrier or in Starbucks? Find a quiet spot or use a background noise app to recreate your ideal study environment at home.
Remove any distractions!

Clean off a desk or table to make space.

Turn off the TV.

Consider turning off your cellphone or putting it in a different room.
USE JMU RESOURCES & NETWORK
Helpful links to on-campus resources that are still providing services:
Connect with peers to study together via phone or video chat.
Utilize the ability to share documents and group edit.
Ask your professor about their office hours and how to best contact them with any questions or concerns.

The Science and Math Learning Center
University Writing Center
Library Resources
Academic Advising
Counseling Center
BE PRODUCTIVE
Ask yourself...
When am I most productive?
Am I a morning person or night owl?
Do I have a specific order in which I want to get done work? (Ex. first BIO, then MATH, and end with HTH).
Try to keep your schedule consistent.
PARTICIPATE
Use online lecture time to ask questions and clarify material.
Engage in discussion boards with peers.
Read their comments.
Do not be afraid to reach out to professors, TAs, and GAs.
STAY MOTIVATED
Create a realistic schedule and set goals. Consider rewarding yourself after getting work done. Talk to your fellow Dukes and encourage one another!
TAKE CARE OF YOURSELF
Get sleep.
Stay active.
Go outside.
Maintain personal hygiene.
Practice social distancing.
Relieve stress and anxiety.
& BREATHE
Schedule a LSI Zoom appointment by emailing lss@jmu.edu
To download the information on this page in the form of a PDF infographic, click on the image below: