Roger Soenksen: Professor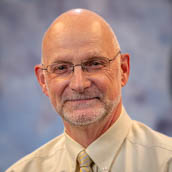 Ph.D. Ohio University
M.A. University of Wisconsin - Milwaukee
B.S. University of Wisconsin - Platteville
Dr. Soenksen initially came to Madison College in the Fall of 1976. He held the positions of debate coach or Director of Forensics from 1976 until 1994. The JMU debate squad qualified at least one team to the National Debate Tournament from 1979-1994; failing only once to qualify. In 1986, Soenksen received the Carl Harter Distinguished Teaching Award at JMU. Dr. Soenksen was named a Madison Scholar for the 1993-94 academic year for his research on students and their First Amendment rights. In 2012, Dr. Soenksen received the Provost Award for Excellence in Academic Advising.
Dr. Soenksen was appointed by JMU President Rose in 2006 to be the university's Faculty Athletic Representative (FAR). As FAR, he serves as a liaison for student-athletes between the athletic department and academic divisions. He also is active at the conference and national FAR levels. President Alger has continued to reappoint Dr. Soenksen as the University's FAR.
Dr. Soenksen holds a joint appointment, splitting his teaching time between SMAD and SCOM.
SMAD 101, SMAD 370, SCOM 346, and SCOM 431 web pages can be found on canvas.jmu.edu.
Teaching Interests: Communication Law, Free Speech, Legal Communication, and the Introduction to Media Arts & Design
Research/Creative Activities: First Amendment Law