Ryan Tice: Photojournalist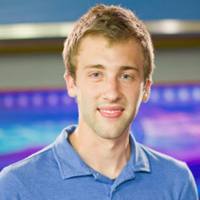 Ryan Tice is the chief photojournalist at WHSV-TV in Harrisonburg, Virginia. He works mostly on special projects called Targeted Special Reports (TSRs) that are longer-format pieces. He also accompanies reporters in the news and sports departments on live shoots and for other stories.
Tice, a 2010 graduate, has been in the Shenandoah Valley since he was 2 years old. He grew up in Weyers Cave, Virginia. After spending two years at Blue Ridge Community College, Tice enrolled at James Madison University and graduated with a major in media arts and design, concentrating in digital video and cinema.
Tice is still active in the JMU community. He has season tickets to both men's basketball and football games.
Profile by Olivia Coleman, SMAD ('16)