Rachel McRady: Web Editor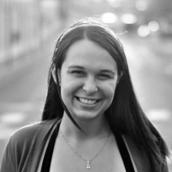 Rachel McRady, a 2011 graduate, is the web editor at Us Weekly, where she writes and edits stories, manages social media accounts and frequently runs the entire site solo.
At Us Weekly, she savors the chance to express her creativity. "I got to write some fake fan fiction about Christoph Waltz and his cheeseburger at a Golden Globes after-party," she said. "I love it when I get the chance to step outside the box with those types of articles."
Before joining Us, McRady spent two years at Wet Paint Entertainment where she was quickly promoted to assistant editor.
She has enjoyed finding her voice as a writer. "You want to have your own voice as a writer," she said, "but you also want to make sure that it's appropriate with the tone of the magazine or the website or newspaper that you're writing for."
At JMU, McRady founded Port & Main magazine, a student quarterly lifestyles magazine, and she was managing editor at The Breeze.
Profile by Brittany Fisher, SMAD ('15)