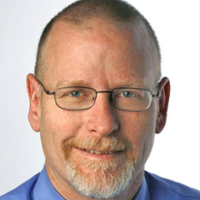 Danny Finnegan, a 1984 graduate, has been editor of the Richmond Times-Dispatch since 2011. Finnegan serves on both the Virginia Press Association board and the Society of Professional Journalists.
As editor of the Richmond newspaper, he has been leading the transformation of the company from a newspaper company to one that is digital-first. He calls this the "prigital" era, a time when digital and print can work together to tell stories.
His first position out of college was three years as a sports reporter at the Daily Progress in Charlottesville, Virginia. He then moved to the Times-Dispatch in 1987.
Profile by Peter Byrd, SMAD ('16)