Jordan Clifford: Editor and Photographer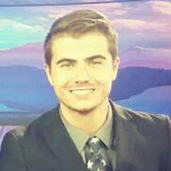 Jordan Clifford, a 2014 graduate, stayed in Harrisonburg when he graduated and now works for WHSV-TV3 as a daybreak editor and photographer. He gets up hours before dawn to edit the morning news and gets footage of any breaking news that may have happened.
Clifford hopes to get involved in network television in Los Angeles or New York City, and describes his dream job as working for Comedy Central, Netflix or Saturday Night Live.
Clifford says he owes many of the opportunities he has been offered to the SMAD program. He believes that the diverse coursework and outstanding professors helped him to discover what he loves to do, and showed him how to make a career out of it. He credits Professor Rusty Greene for his success, for being understanding and encouraging all of his students.
Profile by Ashley Branch ('16)