Randi Clarke Lennon: CBS Director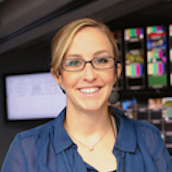 Randi Clarke Lennon, who has worked on various major television news and entertainments shows, is now a director at "CBS This Morning," where she has won two Emmys for her work on the network's flagship morning program.
Lennon, a 2001 SMAD graduate, began pursuing her career while she was a student, spending the summer between her junior and senior years as an intern at "Dateline NBC" in New York City. The week of graduation she received a call from "Dateline" inviting her to interview for a production assistant position. She moved to New York without hearing back from NBC and took a job as a waitress. On the first day of waiting tables she received a voicemail from "Dateline" inviting her to start work the following Monday. It had been a month since she interviewed.
As a PA on the show, she was in the control room helping the director and the associate director during the show's air dates. As a member of the day-of-air team, she was called in by the network for breaking stories. When terrorists struck New York City on Sept. 11, 2001, Randi was involved in NBC coverage.
She stayed at "Dateline" for three years but, feeling a little overwhelmed by news, left to work as a PA on the "Late Show with Carson Daly." When Daly moved the show to Los Angeles a year later, Lennon chose to stay in New York .
Soon after, she took a position with "The View," still as a production assistant, but she was able to join the Director's Guild and be mentored in directing.
The next stop was an opportunity to go to a start-up morning show as associate director. She met her husband, who was a camera operator for the same show, and was with that show for two years.
She later received a call from CBS to be associate director for "The Early Show." The show wasn't doing well in the ratings, and CBS hired a new executive producer and promoted Randi to that position.
The experience of directing "CBS This Morning" has been rewarding, and the show has been very successful.
During her tenure as director, she also has had two children. One of them is named Madison.