Jim Acosta: Senior White House Correspondent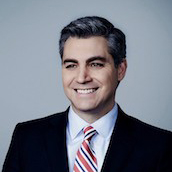 Senior White House Correspondent

Jim Acosta is CNN's senior White House correspondent, covering the Obama administration from the White House and around the world. He regularly covers presidential press conferences, visits by heads of states, and issues impacting the Executive Branch of the federal government. Acosta is based in the network's Washington, D.C., bureau and serves as a substitute anchor for the network across a variety of CNN programs. Previously, Acosta was national political correspondent throughout CNN's 'America's Choice 2012' election coverage, embedded with the Romney presidential campaign as the lead correspondent. Acosta sat down with Mitt Romney for two one-on-one interviews, breaking several political stories and presidential debate coverage. In addition, he covered both of President Barack Obama's inaugurations and contributed to the network's mid-term election coverage.
Before joining CNN in March 2007, Acosta was a CBS News and several of their affiliates. He began his journalism career with WMAL-AM radio in Washington, before making the transition to television.
Acosta graduated cum laude from JMU with a bachelor's degree in mass communications and a minor in political science. While in college he volunteered at WXJM, the student-run radio station and had a job at the local radio station, WSVA.
Acosta's wife, Sharon, is also a JMU graduate. They live in Annapolis, MD, with their two children.