"In most people's vocabularies, design means veneer…. But to me, nothing could be further from the meaning of design. Design is the fundamental soul of a human-made creation that ends up expressing itself in successive outer layers of the product or service."
-- Steve Jobs
What is industrial design?
Read the article: Industrial design: an intensive and innovative major (The Breeze)
Look around you. Notice your shoes, your watch, or your phone. Someone thought about the style, color, and materials of those objects. They planned the way they were manufactured and thought about how you would interact with them. Those people are industrial designers. They develop the stuff of our daily lives.  Industrial designers blend together art, engineering, business, sociology and anthropology. Industrial designers experiment and invent. They house inner workings in beautiful, ergonomic, marketable shells. They study people and drive consumer behavior. And that's just the beginning…
Industrial designers think through making – using their hands, as well as computers – to create drawings and prototypes of novel ideas.  Industrial designers ask a lot of questions. They solve problems by doing research – interviewing and observing the behavior of end-users. They create solutions that satisfy needs and solve problems based on those interactions.  Industrial designers also create systems and services. The work they do drives innovation and business strategy. They use their skills to interface with complex, "wicked" problems to instigate communication, foster collaboration, and spur action.
The Industrial Designers Society of America chapter at James Madison University, together with JMU's School of Art, Design, and Art History, hosted the 2021 IDSA JMU Conference, "Beyond the Box," Nov. 12-13. This was the first time JMU hosted the event, which brought design professionals and students throughout the South and mid-Atlantic to a packed schedule of speakers, portfolio critiques, workshops, and networking events. Read more
Industrial Design at JMU
The Industrial Design program at JMU equips students with the creative problem solving skills necessary to become innovative design leaders. It empowers students to become positive social, environmental and economic forces in their communities and within the design professions.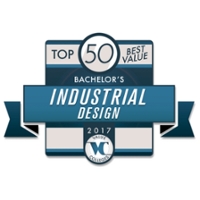 The program emphasizes experimentation and investigation utilizing a rigorous human-centered, studio-based practice. The curriculum addresses the interaction between humans, objects and their environment through an empathy-based "design thinking" approach to problem solving. ID students study sculpture and form, drawing, making, material science, sociological and anthropological research methods, systems thinking, history, writing, and design theory. ID students also receive exposure to basic engineering, advanced manufacturing & fabrication processes, and common marketing, business, and entrepreneurship practices.
The intrinsic interdisciplinary nature of the field of Industrial Design requires students to develop both a depth of design-specific knowledge and technical skills as well as a breadth of knowledge in a variety of associated fields like business and engineering. The JMU ID program is designed to offer many opportunities for students to directly experience a collaborative, applied approach through connection with industry and community partners, internships, study abroad programs and professional critique.
Potential Careers in Industrial Design
Product Design
Furniture Design 
Packaging Design
Transportation Design
Lighting Design
3D Computer Aided Drawing 
Model Making
Entrepreneurship
Social Innovation
and many more!
Industrial Design Society of America
The Industrial Design Society of America is the professional organization for industrial designers and JMU has a very active student chapter.

IDSA defines Industrial Design as "the professional service of creating products and systems that optimize function, value and appearance for the mutual benefit of both user and manufacturer.