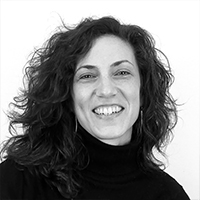 Anna Smith's creative endeavors started at the age of two when she graffitied her name on the side of her mattress with a red Sanford permanent marker. She has been creating ever since. Smith is a cross-pollinator. Her creative and professional work over the last 22 years has connected/crossed many different artistic genres, encompassing more than these labels we give them: dance/movement arts, design and visual art. Throughout, observer, educator and maker have been constants.
Over the last decade, Anna has worked as a Footwear Designer, Color Designer, Material & Trend Specialist, Interior Design Planner, Graphic Designer, and Wedding Coordinator/Director.  For the last five years, she was a Design Education Director, focusing heavily on community and industry partnerships to bring more value to her student's education.
She shares space on this planet with her partner and their dog, Rocco. Baking, cooking, hunting/gathering for inspiration and yoga are some of her favorite things to do to keep her sane.
"Life is a blank canvas. Throw all the paint at it you can." -Danny Kaye
Education
Masters of Industrial Design, N.C. State University, College of Design, Raleigh, N.C.
Bachelors of Dance; Performance and Choreography, Meredith College, Raleigh, N.C
Honors & Awards
MADE in USA Design Award | Future of Footwear Competition | Summer 2013                                                    PENSOLE FOOTWEAR DESIGN ACADEMY, Portland OR                                                                      
SURFACE DESIGN Award | Cotton Initiative Exhibition Artist | Spring 2013                                                        ART TO WEAR, North Carolina State University                                                                                
WORK STUDY Scholarship | Summer 2012                                                                                                    PENLAND SCHOOL OF CRAFT                                                                                                         
DESIGN EDUCATION Second Place Award | Design Learning Challenge | Spring 2012                               INDUSTRIAL DESIGN SOCIETY OF AMERICA                                                                                    
INDUSTRIAL DESIGN SCHOLARSHIP AWARD | 2010-2011                                                                                 L. FRANKLIN BOST, Raleigh, NC                                                                                                       
ACTS TO FOLLOW, Choreographer | Summer 2006                                                                               AMERICAN DANCE FESTIVAL, Durham, NC                                                                                     
AFFILIATE ARTIST, Choreographer | Fall 2005                                                                                           MEREDITH COLLEGE DANCE THEATER, Raleigh, NC
Guest Lectures & Workshops
How Digital Workflows Are Changing Footwear, Panelist | August 2019
WACOM Experience Center, Portland OR
TiE Young Entrepreneurs, Industry Consultant/Mentor | August 2018 - June 12019
Semester-long student company, focusing on sustainable footwear; State finals & TEDxMtHood
Footwear Design, Teaching Assistant | Spring 2013
Summer Camp, PENSOLE Footwear Design Academy, Portland OR 
Materials Workshop [Recharge], Teaching Assistant | Spring 2013
3-day Professional development workshop, MLab, Portland OR
Think/Make Studio, Teaching Assistant | Summer 2012
Design Camp, NCState College of Design, Raleigh NC
An Introduction to Industrial Design/Footwear Design, Guest Instructor | April 2012
Sole Stories Workshop (7 weeks), Holly Grove Middle School, Holly Springs NC
Contemporary Partnering Techniques, Lecturer | 2009
North Carolina Dance Alliance Annual Event, Charlotte NC
Arts Integration for Educators, Guest Lecturer | 2007-2008
Wolf Trap and Arts Teach NC, Charlotte NC   
Visiting Artist: Dance Educator [Modern Dance Technique and Choreography] | 2007
Auldern Academy, Pittsboro NC
Interdisciplinary Art and Dance Integration Workshop | 2007
NC Alliance for Health, Physical Education, Recreation and Dance Annual Conference, Greensboro NC