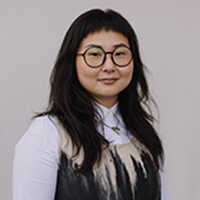 Education
Ph.D. (Art Education), Virginia Commonwealth University

M.A. (Art Education), James Madison University

B.A. (Studio Art-Photography), James Madison University 
Commonwealth of Virginia, Collegiate Teaching Licensure: Visual Arts K-12
Areas of Expertise
Dr. Sions' teaching and research focuses on issues of diversity and intersectionality through a Critical Race lens. 
Professional Affiliations
National Art Education Association

Virginia Art Education Association
Previous Experience
Dr. Sions worked as an elementary art teacher in Rockingham County, Va. for six years, visiting up to three schools each week. She taught students in rural, urban and suburban areas.
During her time as a doctoral student at Virginia Commonwealth University, Dr. Sions served as a graduate assistant, instructor and director of an after-school program hosted by the art education department. She also worked with the Metropolitan Educational Research Consortium as a research assistant, participating in the evaluation of a regional magnet school in the Richmond area whose mission included diversifying the regional CS work force by providing students from all backgrounds an opportunity for an innovative education. 
Dr. Sions is currently the Associate Digital Curator for the Caucus of Social Theory in Art Education.
Scholarship
Recent publications:
Sions, H. K. (Accepted). How do I belong? The space between Korean and American in Korean American. In R. Shin, M. Lim, O. Lee & S. Han (Eds.), Counternarratives from Asian American Art Educators: Identities, Pedagogies, and Practice beyond the Western Paradigm. Routledge.

Sions, H.K. (2022). Preparing anti-racist teachers: Reflections on an anti-racist elementary methods curriculum. Art Education, 75(1), 26-29. 

Sions, H. K. & Wolfgang, C. N. (2021). Looking back, looking forward: Resisting the white gaze in historical narratives and future possibilities of art education. The Journal of Social Theory in Art Education, 41, 82-104.

Sions, H.K., & Coleman, A. (2019). "The team is all White": Reflections of art educators of color on Whiteness. Journal of Cultural Research in Art Education, 36. 

Sions, H.K. (2018). K-Pop and critical multicultural art education. Journal of Cultural Research in Art Education, 35, 44-54.
In the last four years, Dr. Sions has presented at 14 juried sessions at state, national and international education conferences.