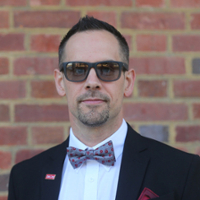 Education
M.F.A. (Industrial Design), University of Notre Dame
B.A. (Architecture), Miami University
B.F.A. (Metals), Miami University
Areas of Expertise
Kevin Phaup works as both designer and artist across multiple disciplines. Through his belief in the power of design and design thinking, Phaup embraces the ambiguity of the design process to uncover social innovation in the areas of mobility design, accessibility and disaster relief for the developing world.
Phaup has an extensive background in construction trade skillsets, such as framing, woodworking, welding and electrical wiring, which supports his formal training in architecture, design and metalsmithing as master fabricator. Phaup works with digital technologies for the production of 2D and 3D art and design work in techniques such as CAD modeling, digital fabrication and Photoshop rendering. He offers courses in industrial design at all levels, as well as Art Foundations in Drawing, 2D Design, and 3D Design classes.
Previous Experience
Phaup worked in the construction and fabrication industry prior to his academic career, with additional time spent working in ministry with troubled teens in southwest Missouri. His professional work as a social entrepreneur in Nepal focuses on wheelchair design and transitional housing following the 2015 earthquakes. Phaup taught in art at Miami University and industrial design at the University of Notre Dame.