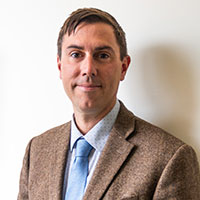 David Hardy's practice focuses on a multidisciplinary approach to design and technology for nonprofit, community and forward-thinking organizations. His research concerns the craft-based exploration of digital methods and tools and concept of hacking them for novel uses. Prior to his career in higher education, David was a senior web designer for MGM Resorts where he designed and built large-scale websites for Las Vegas properties such as The Bellagio and Mandalay Bay. He has also worked as a graphic designer in several ad agencies, such as Ogilvy's Creative Studio in Washington D.C.
Education
M.F.A. University of Baltimore
B.A. University of Maryland
Areas of Expertise
User Interface Design
User Experience Design
Motion Graphics & Animation
Interaction Design
Web Design & Development
Design for Extended Reality
Branding & Traditional Graphic Design
Previous Experience
Prior to his service at JMU, Hardy was a professor and director of the graphic communications program at the College of Southern Nevada. He also served as president of the Las Vegas chapter of the American Institute of Graphic Arts, where he organized educational and professional programming.
Scholarship
An Introduction to Digital Media Design will offer a hands-on exploration of graphic design methods and tools, considering ways of quickly incorporating them into a project and "hacking" them for novel approaches. The book will serve as a companion to emerging designers navigating career paths. Allowing designers to work seamlessly across media, Introduction to Digital Design will make what is unfamiliar in different design disciplines more accessible. Armed with a set of procedural building blocks, readers will afterward be familiarized with new practices that can prove highly useful. Further, familiar practices can be repurposed to have new or lesser-known uses, making them novel once again and all the more useful. In this way—and because the work surveys a variety of different design disciplines and as many tools—this text will serve as both a primer for young designers and a handbook for proficient users.
Selected Presentations and Awards
Digital design for physical experiences: leveraging current skills for prototyping in extended reality
AIGA National Design Conference.
Education Symposium. Friday, November 13, 2020 
--
Innovating the Archives: 25 Years of Furious Flower
Digital archive highlighting and interpreting the historic 1994 Furious Flower conference at James Madison University.
James Madison University. April 26, 2019.
--
Design Incubation Fellowship
Book Authoring Track.
New York. January 11–13, 2018
--
From pushing pixels to pushing the needle: Balancing digital craft and design research
AIGA Decipher: Design Educators Research Conference
University of Michigan. September 28, 2018.
--
Digital Design and Emerging Tech: Engagement and Experimentation
College of Visual and Performing Arts Summer Research Grant
James Madison University. Summer, 2018
--
Graphic Design Education for New Media
UCDA Design Education Summit.
Kutztown University of Pennsylvania. May 24, 2017
Study Abroad
Dutch Design, Art, and the Humanities
Amsterdam, The Netherlands
2018 - present 
This study abroad program is based in Amsterdam, the Netherlands. Dutch art, design, and culture are central to the core of the program. We explore the rich past of Amsterdam from the 17th century to the present. For Art, this starts with the Golden Age of Dutch painting and ends with iconic imagery that challenges conventions. Dutch design is known for use of contrast, wit, and reduction. Experiencing Amsterdam by examining modernity's arts and humanities grounds the trip.
Professional Affiliations
American Institute of Graphic Arts
Service
Honors and Awards Committee
Fellowships Nomination Committee
CVPA Awards & Development Committee