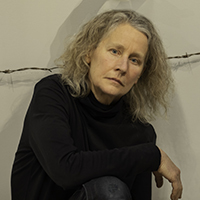 Millicent Young is the recipient of the 2022 Distinguished Alumni Award
Year Graduated
M.F.A. 1997
Noteworthy campus achievement 
I attended graduate school on a full teaching fellowship which meant that I taught two undergrad art classes and took three graduate courses per semester. In exchange, I received a full tuition waiver as well as a small stipend. For a while, I was assigned to teach the intro level art appreciation lecture course in addition to a foundations studio class. The lecture class required a tremendous amount of prep time in the slide library as well as taking my own slide images from books in order to teach what I felt was important. My commute to campus was an hour and a quarter from the east side of the Blue Ridge. The time demands were intense.

What are you up to now?
I am a full time studio artist living in the Hudson Valley, NY. I exhibit regularly and working in the studio daily. I am an avid gardener of both ornamental and edible plants. I am deeply engaged with regenerative land practices.
How does your art major/minor inform your career?
I attended the graduate program as a mature student. I had already been teaching art and developing art curriculum at the secondary and community college levels as well as maintaining my own studio and practice. I viewed going to graduate school as an extended residency, a self motivated (and as it turned out also self guided) inquiry into art and being human and the role of the artist in society.

What are some of the most valuable skills you gained from the School of Art, Design and Art History?
Commitment to my own vision and practice which included especially honoring the unknown; winnowing helpful feedback from irrelevant feedback; meeting obstacles as opportunities; staying true to the source of my voice even when it faltered; being open to support coming from unexpected places.

What is your advice for JMU students knowing what you know now?
It takes maturity for one's art to develop the capacity to resonate in the world. Live into the places that are soul making and allow the maturity to arrive in you. Develop your visual vocabulary and fluency with materials. Art comes through us. Something from the world - or our experience of it - enters us. It belongs back in the world, transformed and transforming. Be open and curious and discerning.

Website/Blog
millicentyoung.com