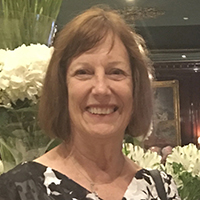 Peggy Wood is the 2020 Outstanding Alumni Award winner.
---
Year graduated
1970
Major
Art Education
What are you up to now?
Following retirement after 34 years of teaching, I am still working as the executive secretary for the Virginia Art Education Association and serve on the board for the Virginia Coalition for Fine Arts in Education. I have supervised student teachers from both JMU and VCU.

How does your art major/minor inform your career? How did it help you get to where you are now?
I knew I wanted art to be part of my life from an early age, and teaching was a natural fit. I enjoyed a rewarding career for 34 years and am still supervising student teachers and continuing to take and teach classes and/or workshops.

What are some of the most valuable skills you gained from the School of Art, Design and Art History?
I went right from JMU into teaching art and felt confident and prepared. If I didn't know something I had the confidence to figure it out. JMU offered a wide range of art making courses which provided a rich mix of expertise and piquing curiosity. Observations of student behaviors and teaching techniques were provided through live classroom closed circuit tv monitors in the campus school, a technological breakthrough at the time. This arrangement gave us the opportunity to watch and discuss without interrupting a class in session.

What is your advice for JMU students knowing what you know now?
Never stop learning. Take workshops or classes whenever you can, especially outside of your own comfort zone. If you plan to become an art teacher, make a point of visiting schools and observing even when it's not required. Teachers in the field have so many tips and tricks that they are willing to share. Stay connected to your field through your professional organization and be ready to share your skills and knowledge with your colleagues as well as your students. As a new teacher learn not to take on too much...it's important to keep your personal- and professional-life balanced.
2020 Outstanding Alumni Award
Congratulations to Margaret (Peggy) Wood, the James Madison University Department of Studio Art, Design, and Art History Outstanding Alumni for 2020.
Peggy is the executive secretary of the Virginia Art Education Association, a position that she has held for the past 17 years. In this role, Peggy is known not only by art educators across Virginia, but also, through the National Art Education Association, teachers all over the United States. She is the voice, contact, and feet on the ground for the VAEA. She is known as a tireless worker, ensuring that each member of the VAEA's questions are answered, needs are met, and voices are recognized. She is the technician of each annual, statewide conference. Like the backstage crew of a theatre, Peggy's enormous work goes largely unrecognized, notable by the smooth running of all activities; sessions; shuttling of equipment, keynote speakers, conference booklets; contacting vendors, handling finances; negotiating hotel venues; and every other aspect of a successful, annual conference. In another unsung role, Peggy has been the Editor of the multi-national award winning VAEA newsletter as recognized by the NAEA. Though the VAEA volunteers get all the recognition, Peggy is the reason for the annual consistency and excellence of this esteemed publication.

Peggy earned her Bachelor of Science degree from JMU and has since received both a Master's Degree and Clinical Faculty Certification from Virginia Commonwealth University. Peggy taught at the middle and high school level and was twice named the Virginia Art Educator of Virginia, in 1989 and 2000, before being selected for her current role. She continues to contribute to the education of prospective teachers as she has many times served as a JMU, Longwood, and VCU Art Education Adjunct Faculty, University Supervisor overseeing student teachers in the Richmond, Henrico, and Chesterfield school systems.

Since we were unable to celebrate Peggy's selection as the Outstanding SADAH Alumni for 2020 due to the closing of JMU for the COVID-19 pandemic, Roger Tomhave, director of art education student teaching at SADAH, corresponded with Peggy so she could tell us more about her time at JMU and her early career, presented here in interview style.
---
Roger Tomhave: How has JMU changed since you attended?

Peggy Wood: JMU ("Madison College") was very different in 1966 than it is today, but also the same in many ways. When I was accepted to Madison only women boarded there. Men were in a few classes as "day students" and for the first few years there weren't many men around even as day students. It was a beautiful campus, much smaller than what has become JMU.

RT: Tell us a bit about the classes you attended and professors that you had.

PW: Most of the art classes were on the third and fourth floors of Wilson Hall, and professors enjoyed an office in a screened corner of a classroom (Duke Hall opened in 1967 and shared the space with the music program). My memories of my art classes and professors are very positive. The coursework was challenging and purposeful. Professors were friendly, approachable and supportive. I particularly remember Jerry Coulter (painting and design), Kenneth Beer (sculpture), Dr. David Diller (ceramics) and Dr. Crystal Theodore. I actually cannot remember what course I took from Dr. Theodore, but I certainly remember her presence in the halls, especially at Wilson. After I graduated, I asked her to come to Petersburg, Va. to speak to a group of art educators and was shocked that she not only agreed to come but was not at all as scary as I thought.

RT: What was campus life like when you attended?

PW: My college life was interrupted for a short period due to a serious medical condition with my mother. Fortunately, I was able to catch up with my class by attending summer school. Did I mention that there was no air conditioning in the dorms or classrooms during this time?

The political atmosphere while I was at Madison was disturbing. The Vietnam conflict, protest marches and racial tension made my time at JMU a challenging period.  The Kent State shooting took place during my senior year and the news spread like wildfire (even though there was no internet or social media).  Madison held organized meetings as a means of being proactive. It was a period of uncertainty and unrest and continued to be so for several years.

I met my former husband at Madison and together we applied for teaching jobs. The Petersburg school system was in the midst of desegregation and needed teachers. We were both offered jobs while seniors at Madison. The interviews were conducted on campus -- I had never been to Petersburg, much less seen the school in which I would eventually begin my career.

RT: Tell us about your early teaching career.

PW: My first year of teaching was the first year of school desegregation for the city. Petersburg's solution to desegregation was to reconfigure the two secondary schools. Originally both schools housed grades 7-12, one for the African American population and the other for white students. Peabody, the original "black" school became the junior high school (grades 7-9), and Petersburg High School became the high school (grades 10-12). I would serve as the only art teacher at Peabody where I found that the former art teacher had taken many of the supplies with him to the high school (he had placed the order for his own curriculum). I learned quickly how to create worthwhile lessons with few supplies. I also learned to pick my battles with regard to trophy/display cases and traditions important to a former high school. My students and I painted murals in and out of the school, and I arranged for Peabody and Petersburg High to become involved with Virginia Museum of Fine Arts through their traveling exhibitions. We went on field trips to VCU, film showings at Richard Bland College, and I even took my art club on a camping trip to the Peaks of Otter (what was I thinking?). Many of my students had not been out of the tri-cities area, much less to the mountains of Virginia.

RT: How were you able to learn and grow as an art educator?

PW: VCU was close enough to Petersburg to allow opportunities for my continued education. While studying there I eventually moved to Chesterfield County to teach. I completed my Master's degree and I also became more actively involved with the Virginia Art Education Association, first serving as the newsletter editor.

The foundation that I received from Madison College provided me with many of the tools I needed to become a career teacher. I always felt challenged and supported at JMU, both important and necessary ingredients for good program. I had a great thirty-four years as an art teacher and still feel committed to the profession.

RT: Thank you for all you have done for the art educators of Virginia and beyond, first as an art educator yourself, then as a university supervisor for the undergraduate students and student teachers of JMU, VCU, and Longwood College, but most for your gracious, knowledgeable, and many-faceted support of art educators in Virginia and the nation through your long tenure with the Virginia Art Education Association. Virginia is lucky to have you, and JMU is proud to call you an alumna. Welcome home! Even though we are each keeping our distance and could not celebrate with you in person at Duke Hall, you will always be welcome at James Madison University, hopefully very soon. Be well and stay safe!