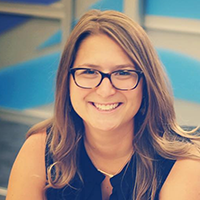 Year Graduated 
2003
Major/ Minor 
Graphic Design
What are you up to now? 
Senior Design Manager, Adobe Creative Cloud Services
How does your art major/minor inform your career?
I am designing products for designers and creatives. It is very meta. I oversee design teams that specialize in solutions for several creative workstreams (How creatives collaborate with and use documents and assets across the Adobe apps). While every aspect of my day-to-day is deeply rooted in the principles I learned as part of my graphic design major, one of my teams oversees design for fonts and typography tooling (how type works in Illustrator, Photoshop, etc...) . My passion for fonts and typography is a direct result of my time at JMU. I spend a lot of time thinking about how designers chose fonts, kern letters, and what tools we could make to make typography a discipline for all to love.
What are some of the most valuable skills you gained from the School of Art, Design and Art History?
The ability to think conceptually about problem solving.
What is your advice for JMU students knowing what you know now?
Graphic design is problem solving. It's a superpower for communication and persuasion. Keep an open mind in how your major can manifest itself in the ever-widening field of design.
Website/Blog

https://twitter.com/samanthatoy
https://www.linkedin.com/in/samanthawarren/