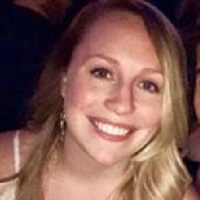 Art (painting & drawing) / Art Education

Year Graduated
2012
Major/ Minor
Art: Painting & Drawing Concentration; PreK-12 Art Education

Noteworthy campus activity or achievement
I was a Kappa Pi Fraternity member, and co-conducted our annual VSA Festival in 2012. I had worked a show at ArtWorks Gallery, as well as a published lesson plan in the Sawhill Gallery. I participated in the Brothers & Sisters Saturday sessions through the Art Ed program. I was also in the founding group of the Kijiji Leadership program at JMU.
 What are you up to now?
I am currently teaching in Henrico County at the high school that I attended, Hermitage High School. I teach Art 1 & Art 2 and have been doing so for 4 years. I previously taught at Hungary Creek Middle School and taught Art 6 as well as Art 1 there. I've been a sponsor of Art Club all four years, and I also sponsor Craft Club, Triangle 2 (an all girls service group) and the National Beta Club (an honors society). Now that I have gotten into the swing of teaching I'll be starting to do commissioned paintings this summer. I got married this past year, and my husband is a teacher in Henrico as well!

How does your art major/minor inform your career? How did it help you get to where you are now?
I learned so much from the professors and my experiences in practicum and student teaching. The experience is what matters most, because it is where you truly learn how to be a teacher without the hypothetical discussions and questions. The school of Art Ed gave me a great background in how to develop a rich lesson and how to apply my knowledge of art to my teaching in a creative manner. I still use those components in my classroom today, and remember feedback that I've been given by my professors, supervisors, & cooperating teachers. 
What are some of the most valuable skills you gained from the School of Art, Design and Art History?
I definitely learned to bring your passions into your art education career. If you teach the same standards that are always taught, you will not inspire the students. My professors always emphasized utilizing new artists, themes, technology, and critical thinking in class, and I definitely try to do so as much as I can today. I also gained so many artistic knowledge and skills from my studio art professors- they were all incredible. 
What is your advice for JMU students knowing what you know now?
Three pieces of advice for when you begin your Art Ed career or any other art related field: 1. Be flexible- you will not always have things go your way in any job field, but you just have to roll with the punches and things will work out. You may not get your dream job at first, or your lesson may not go as planned, but you just keep improving. 2. Do not take anything personally- especially when working with students- you never know what your students, co-workers, or anyone else you encounter in the job field are going through outside of the building you just have to remember that. 3. Be yourself in whatever you do- I've learned that in my teaching, if I try to be something that I am not because of other's expectations, the students know. I've learned to work with my personality and come up with my own teaching techniques to follow my style.

Website, Blog, Instagram, etc. of yours you want to share?
I have a teacher instagram: https://www.instagram.com/mrs.lebleezy.texler