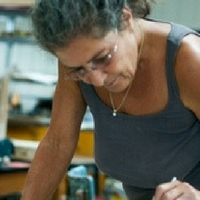 Year Graduated 
1993
Major/ Minor 

Noteworthy campus achievement 
Mural painting with local school, practicum experience great art education class. Exhibiting work in Duke Hall, Dean's List

What are you up to now? 
I have been teaching art Warren County High School for 24 years. I created a rich three year photography program at the high school enabling students to dual enroll or get AP credits. I have been an adjunct professor at Lord Fairfax Community College for 21 years. I have been recognized as an Outstanding Secondary Art Educator for the state of Virginia. 
How does your art major/minor inform your career?
Occasionally I do wedding and portrait work on the side. I exhibit my work regularly. My program is highly recognized. 
What are some of the most valuable skills you gained from the School of Art, Design and Art History?
I did my first darkroom work at JMU with an outstanding professor. JMU gave me my first computer experiences. 
What is your advice for JMU students knowing what you know now?
Learn as much as you can. 
Work as hard as you can and make as many connections as you can. 
Website/Blog
http://www.alstuartphotography.com/
https://www.facebook.com/andrea.l.stuart.5
Slideshow of Andrea Stuart's work