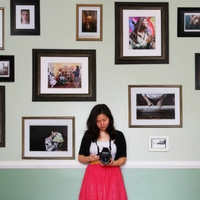 Hannah Sions: Art Education, Art (Photography)

Year Graduated
2014
Major/ Minor
M.A., Art Education, B.A., Art (Photography)
What are you up to now?
Pursuing my doctorate in Art Education at VCU and working as a Graduate Assistant
How does your art major/minor inform your career?
JMU's Art Education program helped me become knowledgeable in my field and gave me a passion for Art Education. Thanks to the guidance of my wonderful professors, I was able to not only get accepted to every PhD program that I applied for, but was offered assistantships at 3 of the 4 schools. It is truly a testament to JMU's Art Education program that I was able to be successful for such competitive positions.
JMU's Art Education program requires students to be active studio artists as well. My undergrad was in Photography, and I learned so much from the studio professors at JMU. I am still continuing to create my own art and have been actively participating in local art shows and projects. Now that I have relocated to Richmond, I am slowly trying to integrate myself into the art culture here as well.
What is your advice for JMU students knowing what you know now?
Enjoy your education experience! Soak up as much knowledge as you can, because you are at an unique stage in your lives where your primary goal is to not only learn, but figure out how that knowledge is applicable to your personal lives.