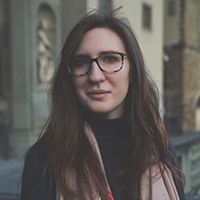 Art (Painting & Drawing), Art History, Art Education

Joanna received a Fulbright award to study in Poland
---
Year Graduated 
2019
Major/ Minor 
Studio Art (Painting & Drawing), Art History, Art Education
Noteworthy campus activity or achievement
During my time at SADAH, I was awarded over a dozen grants, scholarships, and honors for various professional experiences and achievements during my undergraduate career including for my study abroad trip to Italy for art history (Summer 2017) and for the two artistic residencies I conducted summer of 2018 with the New York Academy of Art and umbau school of architecture through the Honors College, the Office of Research and Scholarship, CVPA, and SADAH. Others include International Development Grant through the Center of Global Engagement to conduct research in Kraków, Poland, in March 2019, the James Madison University Foundation Scholarship for the Myra Doherty Memorial Scholarship as well as receiving support as a Lisanby Scholar and a Robert & Barbara Duke Scholar and also received two Art Education scholarships: The Phillip James Art Education Community Outreach Award and the Dr. Jay Art Education Award.
I also participated in over a dozen exhibitions (group and solo shows) stateside and abroad, worked as a gallery intern at the Duke Hall Gallery of Fine Art as well as with the VMFA in Richmond as a summer art education intern in 2017 and worked with a US Department of State's funded program the Global Youth Village as an Art & Culture Facilitator/Instructor in 2017 and 2018, and conducted a thesis project entitled "Liminal Space" through the Honors College as part of my BFA degree. I also had the opportunity to be involved in various student organizations including Kappa Pi International Honors Art Society and the National Art Educators Association JMU Student Chapter in various roles of the Executive Board as well as serve as a Student Ambassador for the College of Visual and Performing Arts.
Finally, I'm most proud that I was the first student within SADAH to receive a fellowship through The Fulbright Program as an art and research applicant for 2019-2020 to Poland to conduct a combination of artistic projects, research and curatorial work, and educational programming with the Jan Matejko Academy of Fine Arts in Kraków and MOCAK Museum of Contemporary Art in Kraków.
What are you up to now? 
I am a working artist, researcher, educator, and project curator! As referenced above, following my graduation from SADAH, I relocated to Kraków, Poland, as a US Fulbright Student Researcher for the 2019-2020 academic year (with a grant extension in Fall 2021), cooperating with both the Jan Matejko Academy of Fine Arts and MOCAK Museum of Contemporary Art in Kraków. During that time, I also provided artist talks, worked with the local and international community such as with global NGO Cities of Peace for their art project commemorating the 75th anniversary of the Auschwitz Liberation and cooperated with the US Consulate in Kraków with Education USA programs and outreach, became a member of the International Print Triennial Society in Krakow, attended conferences such as the Jan Matejko Academy of Fine Arts 4th International Student Conference of Conservation and Restoration of Works of Art, participated in exhibitions and art fairs such as Nowka Stuzka at Bunkier Stuzki Gallery (November-December 2019) and the Fulbright Poland Art Auction and Gala, and had a solo exhibition entitled "Prz–szłość" ("Past/Future") at Off Frame Gallery in February 2020.
When the COVID-19 pandemic hit March 2020, I decided to remain in Kraków to pursue various artistic and research related opportunities in Poland and throughout Europe. I began graduate studies at the Jagiellonian University in Kraków in October 2020 focusing on cultural heritage and more specifically the intersection of art and public space, museum studies, collective memory, and democracy thanks to scholarship support from the Polish National Agency for Academic Exchange (NAWA), to be concluded in 2022. I continued cooperation with MOCAK following my Fulbright, conducting guided tours and workshops of the museums's permanent and temporary exhibitions, continued cooperation with the Global Youth Village as a remote Educator for Art and Culture for their virtual summer exchange program in 2020 and 2021, and also work as a freelance English language editor, proofreader, and tutor with Oxford House.
I am also conducting a grant project awarded by the US Embassy and Consulate in Poland to conduct a virtual cross-cultural exchange between Polish and American artists to respond to the COVID-19 pandemic crisis through a series of work to be showcased in a virtual exhibition. In addition, I participated in two international art residencies: World of Co Residency based in Sofia, Bulgaria (taking place online due to the pandemic) in April-May 2021 and the 17th International Mark Rothko Painting Symposium at the Mark Rothko Art Centre in Daugavpils, Latvia, in September 2021, presenting artist talks and participating in group exhibitions in both residencies. Finally, I have participated in artist talks online and in-person, such as with ArtBLAB London (2021), the Red Zenith Collective (2021), and the American Corner Radom Remote Conference (2020), published a paper with MOCAK Forum Magazine "Rumors of War and Rainbow: A Two-Case Study Investigation of 'Controversial' Contemporary Public Art", and exhibitions in Kraków such as a group show with UFO Gallery "Illusion Fields" (2021) and a 2-person show at Stakkato Art Space "In between landscapes / Pomiędzy krajobraz" (2021) with an upcoming solo exhibition at the International Triennale Society in Kraków's Centrum Gallery in February 2022. I have professional affiliations with the Fulbright Alumni Association, the International Print Trienniale Society of Kraków, and Mid America Print Council.

How does your art major/minor inform your career? How did it help you get to where you are now?
For me, my studio practice is always at the heart of everything I do and coexisting work I also very much enjoy doing, whether in research, education, and more, informs my artistic work in both indirect and direct ways. For instance, my time in Poland and in graduate studies has given me the vocabulary and theoretical base I have been searching for within my artistic practice such as the topic of cultural heritage, of merging intangible and tangible elements that reference (collective) memory and trauma and its the re-negotiation and re-appropriation in institutional and public space contexts. My time at SADAH helped me prepare for and cultivate this strategy in different ways. It can be incredibly difficult to prioritize a studio practice this way for numerous reasons and sometimes artistic opportunities will inevitable ebb and flow as life happens, but continuing to bring it back to my visual work has been a way for me to advance my artistic professional life in a meaningful and impactful way.
What are some of the most valuable skills you gained from the School of Art, Design and Art History?
SADAH provided a space for me to experiment in many different and complimentary interests to provide me with interdisciplinary expertise and the chance to hone my grant writing skills which have been invaluable in my post-university career.

What is your advice for JMU students knowing what you know now?
Be initiative -- if you don't ask, you'll never know. My personal mantra is "be interested, not interesting." And apply for anything and everything (because for every several dozens of opportunities you apply for, you can aim for a few acceptances). Don't forget that being an artist requires also an intersectional skill set of business savvy, advocating for yourself, and resilience.