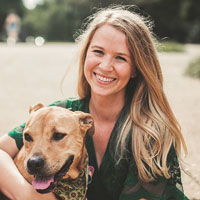 Art, Graphic Design, Art History

Year Graduated
2012
Major/Minor
B.F.A. Art, Graphic Design concentration; Art History minor
What are you up to now?
Associate Art Director at Richmond Magazine
How does your art major/minor inform your career? How did it help you get to where you are now?
While my graphic design concentration is a major part of my chosen career path, the things I learned in my art and art history classes also inform my decision making and creative problem solving every day at work. I'm so grateful for the hands-on painting, photography and fibers classes, as well as the design and architecture history classes that continue to inspire me!
What are some of the most valuable skills you gained from the School of Art, Design and Art History?
Attention to detail and craft, belief in the process, and finding the fun in everything.
What is your advice for JMU students knowing what you know now?
Don't make work for your professors or classmates and follow trends just because everyone else is. It's so easy to fall in to the trap of comparison. Do the work that you believe in and can firmly stand behind, it will only help you in the future.