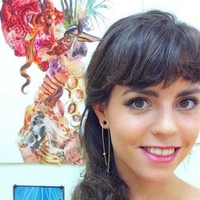 Sculpture, Art Education, Art History

Year Graduated
2015
Major/Minor
BFA Sculpture, Art Education, Art History Minor  
Noteworthy campus achievement 
I was on a recurring portfolio scholarship, received the art history achievement award, presented research at the art history forum, and received the junior and senior studio art achievement awards.
What are you up to now?
I am an art teacher in Fairfax County teaching 6th, 7th, and 8th grade art. Additionally, after school and on weekends, I am a visual art instructor for McLean Project for the Arts, a Mid-Atlantic art gallery with a strong community outreach program. Most importantly, I am a professional artist and am showing work in regional and national exhibitions. Recently having shown at Virginia Museum of Contemporary Art, The University of Cincinnati, Workhouse Arts Center, The Target Gallery, and McLean Project for the Arts. I spent this past summer at an international art residency in Nebraska called Art Farm.  
How does your art major/minor inform your career?
My major is my career. I have an active studio practice in sculpture and collage. I was fortunate to receive incredible instruction and be led by example while at JMU. The active studio practices of Greg Stewart, Stephanie Williams, and Rob Mertens were inspiring to be around. The bonds I formed with these and other professors made it so I can ask them for advice and feedback and keep in touch with them.
The leadership and experience of the art ed department was magnificent and made my first year of teaching A BREEZE. I couldn't have felt more prepared or more ready. Their advice and knowledge guided me and the time spent in practicums throughout my years at JMU gave me so much confidence in the classroom.  
What are some of the most valuable skills you gained from the School of Art, Design and Art History?
Hard work. A studio practice is nothing without obsession and abundant amounts of time spent.
Flexibility. The machine you might need to finish your project is broken. The material you need is on back order and you're under a time crunch. I learned how to think on my feet and be innovative and resourceful. 
What is your advice for JMU students knowing what you know now?
Wherever you move after college, get involved and find an art community. Go to openings and attend lectures and meet people.
If you are an artist or maker of any sort, don't stop making. Its easy to lose momentum, especially after you lose a magnificent studio space, but find ways to keep up your research and practice. 
Website/ Blog

Instagram:
danni_obrien_art
website:
danielleobrienart.weebly.com