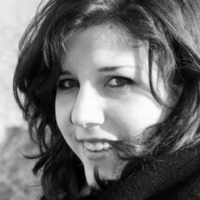 Year Graduated
2011
Major/ Minor
Art, Art History

Noteworthy campus activity or achievement
Kappa Pi Honorary Art Fraternity Sawhill Gallery Intern School of Theatre & Dance Set Designer/Painter
What are you up to now?
I work with an amazing company called Museum Hack (museumhack.com). We do renegade and VIP tours in NYC, DC, LA, SF, and Chicago focused on engagement and storytelling, as well as audience development and team building consulting for museums around the world. We think that "museums are f***ing awesome" and want you to see that too.

How does your art major/minor inform your career? How did it help you get to where you are now?
By exploring multiple classes and paths within my major i discovered my real passion was for museum work. Without thinking about the artistic world complexly and I would have never considered many careers past simply being "an artist." This allowed me to find my passion and continue learning by completing my MA in Museum Studies from the University of Leicester in the UK.
What are some of the most valuable skills you gained from the School of Art, Design and Art History?
Probably the best skill would simply be to think creatively and find innovate solutions to creative problems. Without that mindset I would have not got past many career-based road blocks prior to where I am today.
What is your advice for JMU students knowing what you know now?
Take all the opportunities you can to learn about your field to understand what part of your field you want to go into. Consider what ways you can bring artistic skills to non-artistic fields.

Website, Blog, Instagram, etc. of yours you want to share?
http://jskennedy.net/

Twitter shenanigans @msjskennedy