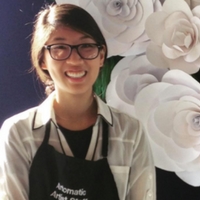 Art (printmaking) / Art Education

Year Graduated
2012
Major/ Minor
Art (Printmaking) / Art Education

Noteworthy campus activity or achievement
Junior Achievement Award 2011
What are you up to now?
I teach high school art in Loudoun County Public School. I host the board game club after school. I make art, play computer games, and hike during my free time.

How does your art major/minor inform your career? How did it help you get to where you are now?
Certification requirements, training, and majoring in the subject matter I was interested in helped prepared me for my career. The close knit community of peers following the same path were very supported and also helped. I also concentrated in printmaking and I share my passion and techniques with my students and any colleagues interested in learning. 
What are some of the most valuable skills you gained from the School of Art, Design and Art History?
Collaboration
What is your advice for JMU students knowing what you know now?
Find what you're good at and figure out what you love and make a career out of that. Take advantage of the studio equipment, space, professor, and art supplies. NOW is the time to explore, get honest feedback, and experiment. It is difficult to find the time, energy, and money after you graduate. It's been 4 years since I graduated and I finally have the space, equipment, and supplies to play around and make screen prints again.

Website, Blog, Instagram, etc. of yours you want to share?
https://www.instagram.com/kangjules/