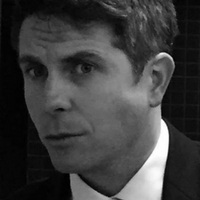 Year Graduated
2000
Major/ Minor
Art, with certification in Art Education. Concentration- Drawing and Painting

Noteworthy campus activity or achievement
I participated in a number of group shows around town and had a solo show in the Fall of 99' at Zirkle House. I was one of only two males in my art education classes.
What are you up to now?
I am the Arts Specialist for Henrico County Schools in Central Virginia.

How does your art major/minor inform your career? How did it help you get to where you are now?
It has meant everything. I was very fortunate to take classes with wonderfully caring people. A few I'm still friends with today. My professors were extremely kind, offering their experiences. and their time. The encouragement I received in those formative years gave me the confidence to teach. Through those early experiences in class I found my teacher voice. And, becoming a teacher was the best decision I've ever made. Simply the best job in the whole world. JMU's art program channeled that believe and made me feel I could do this. I feel student teaching in the rural Harrisonburg area gave me a wider view of the world. At the time, my experiences had been so limited.  
What are some of the most valuable skills you gained from the School of Art, Design and Art History?
Well, the studio classes opened up my mind to a larger world. I was lucky to have a group of professors who were teachers first, researchers second. My skill set was honed, and my view of the art world opened tenfold. I remember going to NYC on a bus during my freshman year like it was yesterday. That trip, surrounded by a group of art students and professors changed my life.  
What is your advice for JMU students knowing what you know now?
Enjoy this formative time. If art education is your dream, gain as much experience as you can working with kids from all areas, different socioeconomic backgrounds etc. Begin marketing yourself, make a portfolio that shows your strengths. What you lack in experience, make up for with enthusiasm and passion for what you do.