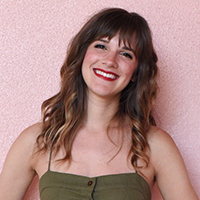 Art (painting & drawing) / Art History

Year Graduated
2012
Major/Minor
Art [painting & drawing] major and Art History minor
Noteworthy campus activity or achievement
Kappa Pi Art Honor Society member, graduated cum laude
What are you up to now?
I'm a photo editor at WIRED magazine.

How does your art major inform your career?
It informs my career in every way possible. I've been able to use every learned skill from my foundational classes up to my concentration classes. And art history knowledge is just...wow...invaluable! In addition to skill, my major taught me immense patience, encouraged me to be open-mind always, and showed me how to engage with my peers collaboratively and constructively.
What are some of the most valuable skills you gained from the School of Art, Design and Art History?
The structure of the courses allows me to now pull knowledge from a variety of mediums. I feel so confident and well versed in fiber arts, print-making, interior design, photography, etc. that if the program did not require us to dip our toes into each of these concentrations my personal Swiss army knife would not exist. I work at a magazine and we explore telling stories in every visual way imaginable. I can draw from my art school skills in scenarios like if I am hiring a textile artist to embroider a photograph or a set designer to create a space for a beautiful product to live in. I will also say that if you can survive art critiques, you can survive anything.

What is your advice for JMU students knowing what you know now?
If you're an art student, take a business class. Once you're out in the real world, never be afraid to cold-call someone/anyone for a job, connection, etc. Be vocal; advocate for yourself always! Put your work in front of as many people as possible. I know it's really scary but I promise it will pay off. And never stop creating!!