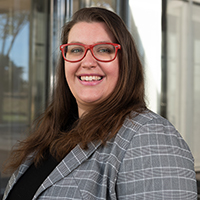 Art (Photography), Art History Minor

Felicia was recognized by the Southeastern Museums Conference for her work making exhibitions more accessible. As Manager of Interpretation, Accessibility, and Diversity at the North Carolina Museum of Art she organized the Casa Azul Immersive Room, which won a 2020 MuseWeb GLAMi Award. She continues her work with accessibility with researching and testing wall labels and monthly Sensory Journey through Art events.
The North Carolina Museum of Art partnered with production company OLO Creative Farm to create an interpretive immersive room featuring imagery inspired by Frida Kahlo and Diego Rivera's home, Casa Azul. This unique space engaged visitors with cultural context for Frida and Diego's work, highlighting aspects of their home and lifestyle—including their garden, display of ex-voto imagery, decorative objects from Mexican cultural tradition, and a suspended mirror to represent the mirror Frida used to paint herself.
---
Year Graduated
2016
Major/ Minor
Art (Photography), Art History Minor
Noteworthy campus activity or achievement
I received the Crystal Theodore Service with Scholarship Award my senior year while in SADAH. It was a really proud moment for me. It was also unique because Crystal Theodore started the Co-Ed Art Frat, Kappa Pi, which I was president of when I received the award.
 
What are you up to now?
After completing my master's at Drexel in Arts Administration and Museum Leadership, I went to work for multiple museums creating digital interactives and films for museums like the International Spy Museum, George Washington's Mount Vernon and more. I am currently in North Carolina working at the North Carolina Museum of Art. I manage the interpretation department and all accessiblity and diversity initiatives. I LOVE my job and the people I work with. I feel I am making the NCMA more accessible and welcoming just one step at a time. I am always looking for interns and happy to connect if you would like to find me on Linkedin! If you ever find yourself in North Carolina, I am a board member for the North Carolina Museum Council and run the Emerging Museum Professionals Group! Do not hesitate to reach out.
How does your art major/minor inform your career? How did it help you get to where you are now?
I owe a huge thank you to my amazing advisor, Corinne Diop. She was the one that encouraged me to look for Arts Administration programs for grad school. She not only pushed my artistic skills but I would not be where I am today without her help and advise. Thank you Corinne!!
What are some of the most valuable skills you gained from the School of Art, Design and Art History?
I learned a lot about communication and team work while at SADAH. I also learned a lot of basic art history knowledge that helps to inform my work at the NCMA. I wish I had more time to take more art history classes. I greatly enjoyed the Aesthetics class (if they still have it).

What is your advice for JMU students knowing what you know now?
Absorb everything, take as many classes as you can (even if you don't think you'll like it) and go to your advisor for help. Stay connected with them and let them inspire you!